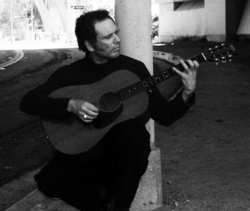 "John M. King writes and performs deep from his heart, with both fearlessness and vulnerability," – says Devon Wendell, journalist the International review of music.
Los Angeles, CA (PRWEB) November 30, 2010
John M. King is a singer/songwriter who is currently performing with his band in the Los Angeles area. A storyteller in the American tradition, combining genres of rock, blues, jazz, alternative and country flavored soul.
John writes from his own experiences, ranging from tragicomic heartache - That's a Respectable Job in Amsterdam to straight up obsession – Pictures of You. Overcoming drug and alcohol addiction and manic depression, John knows the price one can pay in life and expresses it directly into his music, often with a wink and a smile. Now in recovery, John works as a musician/counselor at San Fernando Valley Community Mental Health. Not out of virtue, yet out of remembering where he came from, John inspires others though his music to pursue their dreams, maintain a sense of humor and never give up on life. To quote the line from the song Helicopter - Don't snuff out the fire, there's a cinders still a burnin'!
On Friday, December 10th, 2010 John M. King and his band will be performing at the Cabana Club in the heart of Hollywood in celebration of his first solo album release, Cinders Still Burnin'
The album was recorded, mixed and mastered at Melrose Music Studios by the producer engineer, David Williams. Also contributing to Cinders are multi-instrumentalist "Doc" W, drummers Laura Bilodeau and Paul Cherwick, bass guitarist Antonio Ortiz and Alex Vargas and vocalist Liz Chaffe.
To purchase your copy of the Cinders Still Burnin' album as well as learn more about John M. King, his music, the CD release party and other upcoming shows, refer to http://www.musicbyjohnmking.com
###