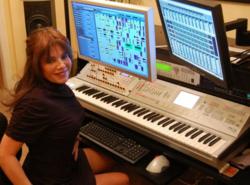 95% of advertisers do not use the full power and potential of music to expand and extend the memory of what they offer even when used in a supporting role.
(PRWEB) December 04, 2012
Rykristo Music Publishing is now offering the entire catalog of 21 songs from electronica visionary and producer Lia Shapiro of Alien Tribe. Alien Tribe shares an original music vision that infuses rock, pop, dance, chill and ambient along with some experimental pieces which can take on a slight hip-hop or trip-hop edge while others move from trance like rhythms to worldbeat.
The Alien Tribe music project uses original sounds all designed by Lia that give each song a unique feel. She uses these sounds in refreshing melodies all backed by rhythms that go from dance to rock to worldbeat to chill. Finally, she mixes in multi-layered vocals featuring her inventive lyrics along with vocal whaling and chanting. Together, these create Alien Tribe's signature sound.
According to Rykristo Music, this catalog of fresh, intriguing songs includes over 100 musical clips, both instrumental and vocal, that can enhance advertisements, TV, film or games. Besides a wide variety of instrumental clips some of which could become an advertiser's recognized "sound", Lia is also known for repetitive lyrical phrasing that can fit well in many types of placements. These include phrases like "Fly away with me," "My body naked," "Dream baby dream," "Go to sleep now," "Be in my moment," "The baby cries," "Love is what we need," "Who am I now without the glow" and many more.
Don Shapiro, Creative Director of Rykristo Music Publishing, brings over 25 years of marketing and advertising experience to the world of music licensing. He offers a music marketing consulting service to help advertisers evaluate and select music that can help them increase their sales even when the music is used in a supporting role. According to Shapiro, 95% of advertisers do not tap into the full power and potential of music to enhance and extend the memory of what is being offered. This can be achieved with only a few seconds of the right music clip.
Rykristo Music Publishing represents the catalogs of Alien Tribe and a few other select artists who create inventive and unique music.