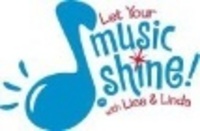 The Very Best Music for the Very Young(TM)
REDMOND, Wash. (PRWEB) February 18, 2008
Music Shine Media, LLC, is a multi-media production company devoted to developing, producing and distributing the original products of Let Your Music Shine! with Lisa & Linda(TM). Lisa Allison and Linda Sebenius, the creators of LYMS, are Seattle-based twin sisters, educators, composers and performers. With a continued focus on "The Very Best Music for the Very Young(TM)", they have completed dozens of original musical theatre scores, hundreds of performances, and multiple award-winning CD and DVD releases. Additional MSM partners include Peter Shutte and Manager Michael Rudy.
As of January 28, 2008, Terence Fitzgerald has joined the MSM Team as consultant and Executive Producer. Terence brings more then 15 years experience developing and producing live action and animated television series, feature films, video games, music videos, and soundtracks through his work with Todd McFarlane Entertainment, Inc. His personal awards include a 1999 Grammy for Outstanding Music Video, two MTV Video Music Awards, and two Emmys for Best Animated Television Series in 1998 and 1999.
Their new DVD Singin' Safari is another example of Lisa and Linda's commitment to inspire the unlimited potential of every child through music. Tara Brown, an Early Childhood Educator, with a Master's Degree in the Arts, shares, "Lisa and Linda both have beautiful voices that captivate not only children, but adults as well. They create a vibrant child-friendly invitation for young ones to dance, sing, interact and learn."
Lisa & Linda Present Singin' Safari can be purchased from http://www.letyourmusicshine.com/, AMAZON and BORDERS.