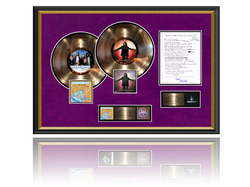 As a songwriter, sharing my songs with people is always a great thrill. But I can think of no deeper fan connection than sharing the benefits of ownership as well. It's a mutually rewarding opportunity
Raleigh, NC (PRWEB) July 27, 2009
SongVest, the company that reinvented the music memorabilia business by offering the ultimate fan collectible -- the songs themselves -- has announced their next major online auction will take place August 15-22 at songvest.com and will include Billboard Top 40 hits "We Don't Have To Take Our Clothes Off" performed by Jermaine Stewart, "Miss You Like Crazy" performed by Natalie Cole, and the international hit "Clothes Off!!" performed by Gym Class Heroes.
SongVest has partnered with writer Preston Glass to offer bidders 25% of his Writer's Share for each of the songs. In addition to sharing in the royalty stream the songs generate, the high bidders will also receive one-of-a-kind platinum album awards featuring handwritten and signed lyrics.
"As a songwriter, sharing my songs with people is always a great thrill. But I can think of no deeper fan connection than sharing the benefits of ownership as well. It's a mutually rewarding opportunity," commented Mr. Glass.
Since 2007, SongVest has offered music fans, collectors, and investors the unique opportunity to share the royalties with the writers of their favorite music. Past auctions have included the rights to songs recorded by Aerosmith, Bon Jovi, Carrie Underwood, Ringo Starr, Ozzy Osbourne, and The Monkees.
The auction will begin at 3PM EST on Saturday, August 15 and end at 3PM EST on Saturday, August 22. Fans can register now at http://www.songvest.com to learn more about the revenue history for each song and get a glimpse behind the scenes at how and why the songs were written.
About SongVest
SongVest, Inc. is the world's first and only song rights auction house. The company provides 'music memorabilia with a paycheck' to fans, collectors, and investors by acting as a broker between songwriters (or their heirs) and rights buyers. When a songwriter is compensated for the performance, sale, or use of their song, so to will high bidders at SongVest auctions. The company's unique business model has been featured in the Wall Street Journal, Rolling Stone, CNBC, USA Today, Forbes, and countless online music, fan, collector, and investment outlets all over the world.
Contact Information:
Sean Peace, SongVest, Inc.
919.324.2945
MEDIA ALERT:
1. Songwriter Preston Glass is available for interviews. Please contact Sean Peace with inquiries at 919.324.2945.
2. High resolution imagery of platinum album awards available upon request. Please contact sean at songvest dot com.
###