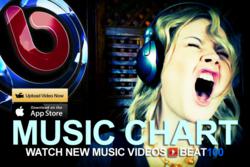 Thousands of people every day browse and share music videos already on BEAT100.com and cash prizes are won every WEEK with a dedicated team that will always answer questions.
Austin, TX (PRWEB) January 18, 2013
The landscape for musicians today is vastly different than that of even a decade ago. Up until the turn of the millennium, aspiring bands or artists lived with the often blind hope that somewhere, amongst the silhouettes that stood around at a gig, would be someone with a pocket full of record deals. It rarely happened, but it did happen sometimes. What never happened though, was a band receiving an email from a label rep who had just stumbled across them on the internet! The last major UK bands like Oasis and Coldplay became monsters of the industry with none of the digital tools available now, so artists must use every bit of pro-active nous to take advantage of what really is a new 'ball's in your court' situation.
Social networking is a powerful new era already... but it's really only just beginning.
There are always going to be teething problems in every new era. In the early days of internet, there were endless different kinds of websites available with the idea of giving artists a platform to show off their music whilst in some cases even integrating other social networks like Facebook, YouTube and Twitter. All of them have played a part in transforming the whole musical landscape, encouraging more people into becoming musicians even. Today it's almost an even playing field... the power is with musicians to make themselves known by encouraging friends and families to share their links through social networks, sending off links to music pages to every record label in the land. Musicians now have the ability to effectively grow a fan base in town's and cities, even countries.
BEAT100 is a fresh new social networking site that has been designed and engineered in a way that caters for everything an aspiring musician or band needs. Not only can users upload videos into a fantastic chart and win cash prizes for moving up, but users can also link in their own Facebook, Twitter and other social networks, meaning their friends and fans can help musicians move up the charts. Thousands of people every day browse and share music videos already on BEAT100.com and cash prizes are won every WEEK with a dedicated team that will always answer questions; something often frustratingly absent on many other social network platforms. A new chart system is also on it's way which will feature original songs only. Cover songs will then have their own chart.
Once a video is uploaded into the BEAT100 music charts the only thing left for the artist to do is to share the link amongst friends, and there is a very good chance the artist will then be featured in the news section which goes out on the BEAT100 Facebook and Twitter pages, along with other social networks. It's all about free exposure and getting something back for your efforts. There's no middlemen involved, just the artist and the music loving public who use BEAT100 just to browse through the thousands of videos on show every day.
Also, in the BEAT100 news section, users can read general music news with features and daily reports from the BEAT100 reporting team, as well as gig news and both signed and unsigned artist interviews. The aim is to bring musicians everything they need and stack them up neatly under one strong and durable roof, but BEAT100 will continue to adapt and develop and are always open to user suggestions. BEAT100 consider every artist on their site as a member of the BEAT100 family and can also offer real advice and guidance on making it in a music industry that is littered with pitfalls. BEAT100 will always go that extra mile for their members!
The incentive of weekly cash prizes and exposure for moving up the charts is great way of rewarding artists for their efforts. The more the video is shared the better chance of a cash prize.
In all, it's a simple, fresh and easy way to get heard and not only are there thousands of people using the BEAT100 social network every day, but BEAT100 also has an extensive Facebook and Twitter network which increases the potential audience ten fold.
BEAT100 is always developing and plans and are underway in getting involved with music festivals across the country with an official BEAT100 stage, giving BEAT100 artists the chance to perform live to thousands of music lovers.
The structure of the BEAT100 network is also very easy and simple to use with on-going subtle changes being made so to constantly keep up with the ever changing landscape of social media and with thousands of new videos uploaded every week there is always fresh new content available. Whether users want to share or listen to original music, cover songs or new bands or if they are an aspiring artist and want to upload their music to a site with an ever growing audience, BEAT100 offers it all.