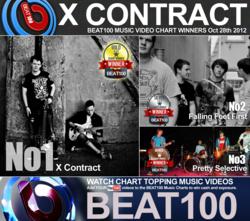 X Contract told BEAT100, "It's extremely difficult to make a name for yourself in Denmark if you're not playing along with pop-beats". We've absolutely loved the opportunities and exposure that BEAT100 offers all the talented artists out there
(PRWEB) October 30, 2012
Danish progressive rock band, X Contract, have topped the BEAT100 Music Video Chart for the second time with their original track, "Realise". The talented band won the chart at the start of September with another X Contract original track, "How Would I", which featured well-known Danish actor, Anders W. Berthelsen, as the lead role in the emotional and moving music video. The band's tenacious promotion and sharing on BEAT100 and other various social networks paid off as they received over 8,000 video views and 2,000 votes, which topped their previous vote and view ratings from their last BEAT100 Music Video Chart victory. The video received two BEAT100 Gold Awards for their well-written song and excellent performance qualities, along with a BEAT100 Silver Favourite Award.
The Pink Floyd and Muse influenced rock sensations recently released their 12-track debut album, "Dearest Dream", which is now available for purchase on iTunes. The album received several excellent reviews, drawing parallels to several successful bands, such as, Radiohead, Coldplay and Anathema. X Contract describe the album as something that "invites the audience into a universe of love and hate, a musical tour through indie as well as new metal, and an expression that reaches from hard to emotional rock." The band have received much recognition from radio stations in England who have played their tracks, despite the level of difficulty they have experienced due to their home country being Denmark. X Contract told BEAT100, "It's extremely difficult to make a name for yourself in Denmark if you're not playing along with pop-beats". Dennis Pedersen, lead singer, formed the band back in 2007, along with lead guitarist and songwriter, Lars Kilt, and drummer Bjørn Wind Andersen. "We've absolutely loved the opportunities and exposure that BEAT100 offers all the talented artists out there! We've made so many friends through the BEAT100 Music Video Chart and have spent so many hours on there," says X Contract. "To us, BEAT100 is the Facebook of online music communities."
Falling Feet First Land in Second Place
The pop/punk band, Falling Feet First, have followed closely behind X Contract this week with their track, "Let In Some Light". The Irish 4-piece band, consisting of Kevin McMahon (vocals and rhythm guitar), Eric Murphy (lead guitar), Colin Murphy (drums) and Conor Phelan (bass), formed just over a year ago and are influenced by successful bands, such as, Jimmy Eat World, Blink 182 and Biffy Clyro. Their video, featuring pictures of the band, received over 6,000 views and 1,800 votes, thanks to their immensely supportive fan base and persistent promotional techniques. The band's music tends to consist of a variety of original music and covers, giving the boys a variety of music to perform at gigs such as, The Irish Youth Music Awards, The Navan 2012 Summer Music Showcase and other various festivals and charity gigs.
"BEAT100 has been a great experience for us because we have made contact with many up-and-coming musicians, like ourselves, all of whom cover a very wide range of styles," the boys tell BEAT100. "We were all in other bands before Falling Feet First, but this band has really allowed us to advance as musicians and gather a following." You can listen to music by Falling Feet First by searching for the band on BEAT100, Facebook or YouTube.
Pretty Selective Take Third Place
The UK based alternative band, Pretty Selective, placed third this week with a live video of their original song, "Underwear". The young, fresh band is formed of Ben Lindsay (vocals/rhythm guitar), James Millsopp (lead guitar/backing vox.), Cian McCourt (bass/backing vox.) and Sean Millsopp (drums). The youngsters are influenced by bands such as, Foo Fighters, You Me At Six and A Day To Remember, which are strongly reflected in their original music. The band formed last year with the intention of entering a school competition, and decided to continue with the project due to their enjoyment and passion for music. They then came up with the name "Pretty Selective" after assessing each of the members taste in music and discovering the diversity among the four of them. "We found BEAT100 to be an amazing experience as we have made many friends and would recommend anyone to try it out," they say. "It's a great website to help yourselves be heard". Pretty Selective have recently released their new EP and is available for free download from their personal website and Facebook page.
BE SEEN– BE HEARD – BE REWARDED
By Kelly Donovan