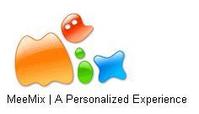 (PRWEB) July 6, 2010
Music personalization innovator MeeMix Ltd. today announced that CSO Dr. Ricardo Tarrasch will present and hold a joint industry professionals panel with Google at the 11th International Society for Music Information Retrieval Conference (ISMIR 2010) on Thursday, August 12, 2010 at 9:30. The ISMIR conference is scheduled to take place on August 9-13 at Utrecht, Netherlands. The conference is sponsored by leading media corporations including Google, Philips, Microsoft and Gracenote.
ISMIR is the world's leading forum for research on the modeling, creation, searching, processing and use of musical data. With a growing emphasis on the commercial application of music information retrieval technologies, such as recommendation systems, ISMIR allocates more conference time in recent years to industry specialists in this area. As such, Dr. Tarrasch was asked to present empirical data regarding the commercial application of MeeMix's automatic music classification, taste prediction and personalized recommendations technologies. Later in the conference Dr. Tarrasch will participate at the Future of Music Information Retrieval - industry professionals panel, together with executives from Google and RjDj.
"We expect that personalized music services will become a standard in the next 3 years" said Gilad Shlang, MeeMix CEO "audio information retrieval and classification is the key for offering personalized music content, we need to analyze and classify audio files just like Google does with web pages"
MeeMix focuses on employing innovative taste prediction algorithms and sophisticated behavioral analysis in order to help web, mobile and TV content companies to efficiently and accurately classify their media catalogs and analyze their customers' individual taste. MeeMix enable its business customers to deliver the most meaningful and relevant items for each individual user, and thus significantly enhance customer experience, consumption and satisfaction. The invitation to take part in the professionals panel was based on MeeMix achievements in developing and commercializing audio classification technologies.
About MeeMix
MeeMix is dedicated to offering companies in the telecommunication industry turn-key solution for music services and applications using. Beyond the basic services such as streaming, download, content management and data mining, MeeMix offers a unique set of personalized music services such as recommendations, search optimization, discovery, and personalized playlist solutions. MeeMix personalization technology has already been proven effective in increasing customer acquisition, retention and sales volume using the variety of services it offers to its worldwide business clients.
Designed by a team of music experts, statisticians and behavioral psychologists, MeeMix technology integrates machine learning, wave analysis, statistical modeling, and semantic web analysis into a complete, empirically-tested music personalization solution.
To learn more about MeeMix, please visit meemix.biz .
###