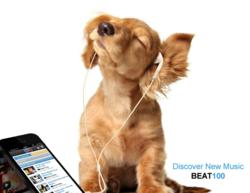 (PRWEB) June 25, 2013
After many requests from BEAT100 users, the network has introduced premium promotional packages to artists and bands in the BEAT100 Music Video Charts. The packages have been created to help users boost their chart positions, gain further exposure and increase visibility to a wider audience on the network.
Users are able to choose between three different music video promotional packages:
1) Premium Promote: Gold – This package is worth $10 and is the best of all three packages. Users who purchase this will receive 100 bonus votes for their chart entry, a share on BEAT100's Facebook & Twitter pages, a premium listing on the 'Featured Artists' page, as well as a feature on the homepage and chart pages.
2) Premium Promote: Silver – This package is worth $5 and includes a premium listing on the 'Features Artists' page, along with 50 bonus votes for their chart entry.
3) Free Promotion – This package is available for any user to have for free and essentially helps them share their music video quickly and efficiently on their social networking pages, including Facebook, Twitter and BEAT100. Users can also copy & paste the link to share on their personal website.
The Gold & Silver premium packages will help users to get their music video out there efficiently and will boost their exposure on BEAT100, Facebook & Twitter. Users who use these packages will also notice a significant increase in views, votes and fans.
BE SEEN – BE HEARD – BE REWARDED