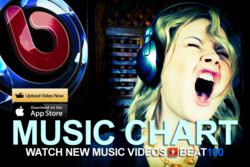 BEAT100 is a fast growing and talent filled social network full of aspiring musicians just waiting to be discovered.
(PRWEB) February 08, 2013
BEAT100 is a fast growing and talent filled social network full of aspiring musicians just waiting to be discovered. After being launched in mid-2012, the number of active users and video uploads is forever growing, with thousands of people logging in daily. With an extremely supportive database of music lovers, every user is guaranteed new fans, likes and followers; if they utilise the networking tools BEAT100 supplies to their full potential.
A unique feature on BEAT100, which stands out to users and aspiring musicians, is the prospect of being rewarded for their talent and effort – all for free. BEAT100 can offer users these well-deserved rewards through the two music video charts; one for original music and another for covers. The two charts are compiled alternatively every week, and the top three winners are rewarded with cash prizes and worldwide exposure through press releases. However, these two charts are not the only way to be rewarded. The BEAT100 A&R team manually approve every video that is uploaded into the video network or chart, therefore anyone who stands out is given BEAT100 Music Awards, and could potentially have an article written about them and distributed worldwide, without doing - or paying - a thing! This kind of free promotion has become extremely hard to find in such a competitive industry, and BEAT100 has closed this noticeable gap that restricts talented musicians from receiving the exposure they deserve.
BEAT100 have already proven that their promise to gain users the recognition they deserve is one-hundred percent true. Recent BEAT100 Music Video Chart winner, Konstantina Angel, received a significant amount of exposure after her first place victory, and was even asked to make an appearance on television in Greece. "I'm really happy about the winning because it gave me a chance to be shown on one of the biggest TV channels in Greece!" says Konstantina. "Loads of newspapers all over Greece wrote about the winning too. I'm really proud of myself, and couldn't have done it without BEAT100." Along with Konstantina, third place winners, Nevrastena, were also featured in several newspapers across Italy, thanks to the exposure that BEAT100 gave them. "Everybody here in Italy is speaking about BEAT100! We were featured in several newspapers, and have been interviewed about our great adventure," says Alessandro D'Agostino, the lead singer. "BEAT100 is more and more present on our radios, newspapers and social networks. It's such an amazing experience and, in the meantime, we are bringing our country around the world!"
Although BEAT100 appears to be aimed at hopeful musicians, every artist needs support, and BEAT100 includes a social network in order to make this possible. Thousands of friend requests are currently being sent out per day, allowing music lovers to watch music videos, vote for their favourite artists and socialise with their friends and fans all in one place. "BEAT100 was created in order to give musicians everything they need, without having to sign up to hundreds of different websites with false promises," explains Ben Weller, a member of the BEAT100 team. "Musicians shouldn't have to pay to promote themselves, which is why we've created a network that can help them do this for free".
BEAT100 are introducing a new profile page within the next few months, which will act as a real home for the users. The profile page will include a personal audio player for each user, in which they can upload their mp3's and create playlists of their favourite music on BEAT100. This personal audio player will also link to the new audio chart, which is being introduced within the next few months, and will give even more users, who don't have any visual material, the opportunity to enter chart competitions. BEAT100 users will also receive their own personal URL, in order to direct friends and fans to their page easily, and will have a multi-upload cover photo feature. Along with BEAT100's unique profile features, it also includes the addictive ones, such as, status updates, picture and video galleries, and an easily downloadable iPhone app. Users can also link their Facebook and Twitter accounts to BEAT100, and post their status' directly to both, simply by ticking a few boxes – talk about having everything in one place!
BE SEEN – BE HEARD – BE REWARDED
By Kelly Donovan