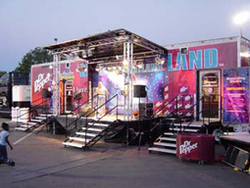 This week will make Mason and Warren County Ohio the center of Karaoke in the United States
Mason, Ohio (PRWEB) January 13, 2009
The City of Mason, Ohio has issued a proclamation declaring August 3rd - August 9th Karaoke Week. The Mayor signed the proclamation on Friday January 9, 2009 clearing the way for a week long karaoke celebration that will include a two day Karaoke trade fair beginning on Monday, and a host of events being held at schools, shopping centers, and karaoke venues in the city each day. The weeklong cavalcade of karaoke activities will culminate in 3 day Karaoke World Championship USA National competition.
Kings Island will be the site for the championship event which was expanded to 3 days from one after a successful premiere at the adventure theme park's Grand International Bandstand Theatre in 2008. 30 competitors from across the country will compete to represent the USA in the world competition in Finland. The competition will be held on August 6th, 7th, and 8th. Wendell Payne, President of Karaoke World Championships USA, llc says, "We are very excited about Kings Island wanting to expand the event to three days. Kings Island and the City of Mason have provided us with the opportunity to make this a week long celebration of Karaoke.
The KWCUSA organization is making every effort to ensure that the week's activities include something for everyone interested in karaoke, whether it be DJ's, restaurant and bar owners, casual karaoke singers, or karaoke addicts. The KWCUSA trade fair will include Karaoke vendors displaying products for the singers, KJ's, and venues alike. Wendell says, "We want to make this a Karaoke show with a focus exclusively on Karaoke products, not just a DJ show. I've been to DJ shows that merely include Karaoke products and they simply don't do the job since karaoke music technology is growing by leaps and bounds. Its time Karaoke had its own trade presence, until now it has been an underserved market despite its growing popularity." Wendell welcomed anyone to contact him at 866-610-7464 ext 900 and give him suggestions on what they would like to see at the trade fair.
In addition to the trade fair, KWCUSA will be hosting the Chartbuster Karaoke Semi complete with mobile stage and recording studio at local shopping centers and schools for daylong and evening events. Also, local bars and restaurants will be having special events tied to this special week, including hosting appearances by competitors from across the country at various venues and events. "This week will make Mason and Warren County Ohio the center of Karaoke in the United States," exclaims Wendell.
All of these events will lead to the Karaoke World Championship USA national competition, which will determine the top male and female that will represent the US in the world competitions in Finland September 11 and 12th. The competitors will come from 10 regions of five states each. Regional competitions will be held in June and July, and State competitions will be held in May and June. One male and one female from each region along with invited competitors from last years national competition will make up the 30 competitors. Local venues host competitions across the United States sending their top male and female to their state competition, then on to regional then to Mason, Ohio for the greatest competition ever known in karaoke.
The 3 day competition will feature an opening ceremony that is scheduled to include past finalists from other countries such as Ireland, Australia, Sweden, Malaysia and others. Wendell says, "We want to show everyone what the world competition is about. What better way then to bring world champion singers here. We also hope to attract some celebrity judges and are working on other surprises during the competition."
In keeping with the spirit of international celebration, Wendell and his wife Pamela will be traveling to attend Ireland's national competition in May, and KWCUSA is working on plans for Alex Peak, the 2008 KWCUSA champion, to go on tour in Ireland. Wendell says, "Everyone in Ireland has wanted to see Alex perform and we are working closely with people there to arrange a tour. He is truly a great country singer and the KWCUSA organization will work to provide him with this opportunity if we can".
###