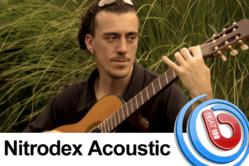 With the music video charts changing to weekly beat100 social network is expecting an incredible buzz around the beat100 music video charts.
(PRWEB) August 03, 2012
It's been an incredible month at BEAT100 social network and they have seen the tightest, knuckle biting chart race in the network's history. Things were incredibly close for a while and the charts kept changing. But there can only be one winner and this month we were all on edge to see who it would be.
Nitro Acoustic brings home first place with a staggering 18,538 views of his hauntingly beautiful rendition of "Soldier of Fortune" by Deep Purple. A late entry to the charts, Nitro Acoustic managed to lock down first place with a cover that is amongst the most beautiful we've ever seen. If you've ever heard the original Deep Purple song then you know it's a beautiful story with incredible guitar work and a mellow, ballad like beauty.
Nitro Acoustic's exceptional cover has managed to re-invent the song whilst bringing more emotion, depth and sublime beauty to the song. He strips away everything to turn the cover into one of the most exceptional pieces of classical, Spanish guitar work we've ever seen. Nitro is an exceptional guitarist and his talent is hard to describe. It is the tone that he brings to the song that really shines through; he accentuates the ballad's beauty, adds tone to every note and shows a skill on the fret board that few can even approximate.
In second place we saw another incredible acoustic entry AND another cover. This month saw the debut of Ben Bennett on the music network with his cover of Ed Sheeran's "Kiss Me". Ben is an incredible performer who is showing a stunning amount of talent. At 17 years old Ben has managed to already finish in the top 24 of the Voice Australia and we're expecting amazing things to follow.
His cover of Ed Sheeran's originally fantastic "Kiss Me" is a beautiful song, and Ben manages to bring a huge range of emotion to his cover, whilst still playing homage to the original. It's a perfectly delivered, soulful indie song with exceptional guitar work and Ben's incredible voice at its finest. He manages an incredible range in his vocals and his melodious voice is perfect for this song. Ben manages to take second place with his incredible cover and you can guarantee that his solo work will be amazing!
In third place we have one of the most different, exciting, innovative and original songs that has ever graced the BEAT100 music charts. "Sub Stomp" by Sub Couple is simply an amazing track with a huge amount of depth, soul and bounce. It's a song that makes you want to bop your head and is half classic rock at its finest and half garage/psych rock. This blend of styles works perfectly and what results is a song that you'll be listening to for years to come.
Their song is lively and really does reinvent the classic rock of yesteryear in a modern ensemble that is challenging, invigorating and exciting. Sub Couple take home third place and already have more songs in the charts which are just as incredible as Sub Stomp!
Rounding out the month in fourth place we saw Sam Reck with his stunning jazz, indie song "Stepping over the Line" Sam Reck brought us a truly imaginative song that blends jazz, swing and modern indie exceptionally well. Sam's vocals are beautiful and his backing from Arnold McCuller added some incredible deep depth to a light and soft song.
Finally, in fifth place we have Stereozone with their magical "Premonition". Stereozone have an exceptional sleazy, grunge rock sound and an incredible song that reminds us of the best of Queens of the Stone Age and modern rock and grunge. Their style is incredible and they bring a huge atmosphere and ambience to their work.
With the music video charts changing to weekly as of today we're expecting an incredible buzz around the music charts in the coming months and it has been fantastic to see such amazing talent in our final month of monthly charts!