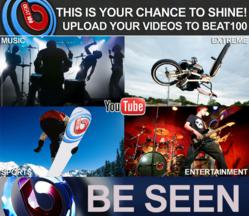 The BEAT100 Entertainment Video Chart gives everyone and anyone a chance to be seen, be heard and be rewarded
(PRWEB) October 15, 2012
BEAT100 are pleased to announce the return of the *Lifestyle/Entertainment* charts, which will run alongside the music charts every two weeks, and work in just the same way; BEAT100 users can vote on the *Lifestyle/Entertainment* Videos they love and want to see at the top of the charts, and the top three will win cash prizes just like the music charts. BEAT100 want to see what our users are capable of, and we want to give them the recognition they deserve.
The BEAT100 Music Video Chart is designed for users to gain maximum exposure and rewards through a voting system. Every 14 days, the Top 3 winners of the chart win cash prizes ($400, $200, $100) along with a worldwide press release that is distributed across the net.
This means that every 14 days there's a cash prize fund and a chart to enter entertainment skill videos into, and be rewarded, just like the music charts. User videos can be anything from Parkour, Free running, Street dancing, Soccer skills, BMX & Skateboarding, Snowboarding, Free Style Moto X or just showing off whatever particular talent a user may have.