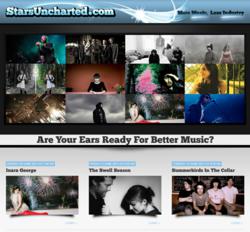 Chances are pretty slim that anyone would be able to predict what will be playing next on a random radio station – right? Well...
(PRWEB) July 11, 2011
StarsUncharted.com is a new music website that should definitely be high on the 'sites to visit' list of people who are hungry for melodic music that doesn't come out of a can. Stars Uncharted only features creative, artistic and meaningful music and music videos by artists the music industry usually overlooks, including many rare gems listeners won't encounter anywhere else online. Visitors can easily share music they like with their friends on any social network and they're also encouraged to suggest possible artists for features.
Here's an interesting little psychic music trick. Chances are pretty slim that anyone would be able to predict what will be playing next on a random radio station – right? Well... the following may not include the song's name or genre but it should be a pretty accurate description of it.
The song sounds vaguely familiar even if it's brand new. It has a slick production, generic lyrics and a catchy melody that follows one of the 20 odd ear-pleasing chord progressions all instant hits use. The artist is sponsored by a big record label and promoted using an expensive PR campaign that focuses on the artist's persona and looks and not the music itself. Sounds about right?
"No need for applause," says Aaron More, CEO of StarsUncharted.com. "It doesn't take a psychic to guess what kind of song you're listening to because anyone who looks at 'The Billboard Hot 100' can make a similar prediction. The music industry is heavy on industry and short on music. This might work for people who simply want to be entertained or mostly care about listening to the "fashionable" thing; but those who expect creativity and substance and not just a copy/paste formula are really left underwhelmed by the banality and lack of imagination displayed by today's leading artists".
The good news? There's plenty of incredible music out there. The bad news? Finding it is hard. Artists and songwriters who create music that's original and meaningful are very low on the industry's food chain. It makes sense from a financial point of view. Recycled hits coupled with performers who are willing to occupy the media with provocations and PR stunts will always outsell the rest. But from a creative point of view, it leaves artists who care about "trivial" things such as imaginative lyrics and original melodies way behind their commercial (and usually less talented) peers.
Hopefully some of the music industry's big guns will follow Stars Uncharted's example; think with their heads and their hearts instead of their wallets and strive towards a better, more art oriented, music industry. Then perhaps one day it would really take a psychic to guess what's playing on the radio at any given moment.
###