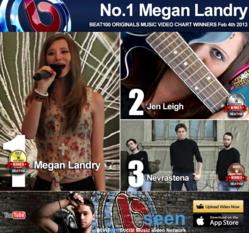 The Beat100 Video Music Awards are designed to recognize excellence.
(PRWEB) February 12, 2013
BEAT100 is a new social network for music and videos and is pleased to report on its growing successes as the place for new music and for showcasing the very best of world music talent. The site has been growing exponentially since its release last year and is quickly coming to dominate the music video networks thanks to its music charts and integrated social network.
BEAT100 combines the sociability of Facebook and Twitter with the music and video sharing of sites like MySpace and YouTube. While sharing between these sites is not uncommon; BEAT100 wanted to integrate these concepts into one space while providing added features and usability for an increasingly complex user base.
There are many ways of attracting attention to a users new music, be it getting out and performing live or sharing links to your music via friends using social networks but having a good quality video can really kick an unknown artist in to orbit. The UK's Ed Sheeran is a clear example of how uploading videos online can create a viral momentum rarely matched by any other form of self-promotion, whilst also one the cheapest.
It is always going to be odds akin to a lottery when it comes to being discovered by a record label but it does happen and it's happening more and more with many A&R scouts now tasked with finding that next big thing online on social media sites including BEAT100.com, a chart based video social networking site that encourages its users to upload their own music or cover songs performed by themselves and enter them in to the BEAT100 charts. It's a fabulous way for an artist to get noticed whilst also clearly rewarding as there are even cash prizes to be won for success. It is sites like this that are slowly transforming the way users find new music and share it with friends and more and more emerging artists are uploading music video's with the hope of going viral around the globe.
Here BEAT100 look at how best to get noticed when making a video to upload online.
Whilst making a music video can be expensive it doesn't have to be. What is more important is the sound because using a PC or laptop internal mic is not going to make a singer sound the best. There is though, a lot of cost effective ways to achieve a great sound with many hand-held digital recorders on the market that will record a crisp clear sound which users can then use as an MP3. If you are serious about getting noticed, it would be better to have a video slideshow with a great sound than to have a poor sound and dark webcam video. Be creative in a video slideshow, using interesting images of yourself if possible.
Try searching for "Free Slideshow Maker" or "Free Movie Maker" in a search engine and musicians should find several different programs which are free to download.
Free applications such as Windows Movie Maker will allow users to create music video slideshow which user can then add your MP3 to as a soundtrack. Don't be overlooked by a potential talent scout because your sound isn't up to scratch...users could be Justin Timberlake and sat infront of a webcam with bad sound quality and you still probably wouldn't get noticed...sound is always priority!
Making a budget music video where bands are concerned is a whole different ball park. These days it's not hard to find someone with a decent video camera or two so it's quite possible to make a music video but again, sound is key and unless users film a live performance it's likely musicians will need to do a lot of lip sync. This is where you will need someone skilled at video editing because if it's not done extremely well, it's certain to put people off it. It's advisable to use a professional where editing is concerned to make sure the music is crisp and clear and the video edits are smooth.
If users are serious about being noticed then give it your best effort and take the time to make sure what's uploaded is the best, sound quality is priority number one!