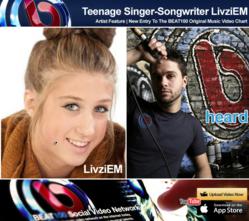 BE SEEN, BE HEARD, BE REWARDED On The BEAT100 Music Video Network
(PRWEB) February 06, 2013
The 16-year-old from Hertfordshire, England has only recently turned her hand to writing her own material after singing for several years, but if her latest song, 'Edge of the World', is an example of what this young artist can deliver, then the future looks ever so bright for LivziEm.
The video, uploaded to the BEAT100 Music Video Charts this week and filmed in a recording studio, does a great job of showcasing the youngster. Focused primarily on her strengths - one of which is her utterly beautiful harmonic voice, seemingly blessed with natural tones - whilst another of LivziEm's strong points is also very noticeable as she demonstrates a real flair on the piano, playing some sublime notes that sit perfectly with the romantic and heartfelt theme of the song. The lyrics are outstanding too and not just for one so young and inexperienced. This song is extremely well written and you would be forgiven for thinking LivziEm was an established twenty-something singer if you had just heard the track on radio. She gives credit on her Youtube page to her Mum for helping her get the song on the road. She writes "Thank you to Chiswell Studios for the recording and to my mum for getting me started with the lyrics on this one.
Sometimes I need a bit of inspiration!"
Coming straight in at 115th in the BEAT100 Original Music Video Charts the fantastic single, 'Edge of the World', which was recorded in the summer of 2012, is just one of many songs by LivziEm, with several others already uploaded to her BEAT100 and YouTube pages. LivziEm is certainly an artist to keep an eye on. She has the kind of voice that mainstream radio stations love to play and a distinctive tone, which would be almost instantly recognisable on the airwaves, very much like one of her own idols, the multi award winning Adele, who need only sing one line to be identified. This is something that will serve the youngster well as she makes progress as these kinds of voices are gold dust!
Take a look at the video for 'Edge of the World' by LivziEm and if you are a budding artist yourself with something to share with the world then get started at BEAT100.com!
BE SEEN - BE HEARD - BE REWARDED
By Alan Devon