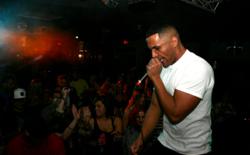 Beat100 believes MC Imprint will benefit from winning the monthly music chart & go on to do big things demonstrating the true power of uploading videos onto the social network. Watch MC Imprints video 'Dancing in the Shadows
(PRWEB) January 02, 2012
Beat100 once again rounds up another exhilarating month's competition which saw acts from all over the globe making a mad dash to claim the top spot & the leader's share of the prize pool to go along with it.
Battling away in the Beat100 Music Chart for prize money, exposure & the opportunity to be picked for one of Beat100's future showcases were some of the best unsigned acts on the globe.
Finishing in a respectable third place are teen sensations 'Us & Her', a family orientated quartet that have kicked up a storm on Beat100 with an astonishing amount of views & not far off of going viral. The band was formed to accompany Casey (12), but working with Felix Bellingham (Songwriter & Producer) the band discovered a unique sound of their own with the three voices, of Casey, Aaron and Taylor on lead vocals. Us and Hers song writing and shared production of covers has now made the band a very exciting prospect with the launch gig to be at Southend's very own Palace Theatre on the 24th March 2012, and also awaiting confirmation for Us and Her to appear at the 'Hop Farm Festival June 2012'.
Beat100's December second place upload is none other than last month's competitions runner up, Rogerio Vaz of Rio de Janeiro, Brazil. Rogerio came back fighting with an acoustic rendition of Adele's mega hit 'Someone Like You' for Decembers competition chart which went down a storm with the Beat100 social network which expands dramatically by the day in response to the sheer quality & quantity of video entertainment being uploaded.
Nailing the Beat100 top spot was USA citizen & Beat100 débutante MC Imprint. Coming from Seal Beach, California, MC Imprint tells Beat100 what the upload finishing at first place in the chart named 'Dancing in the Shadows' is about;
"This song is a story about my father passing away from a drug addiction & in turn I almost lost my life to the same addiction, but I chose music to change my life around." – MC Imprint, California
Real name Brett Guidry, Imprint was raised in Seal Beach, California. After MC Imprints father passed away, the MC found solace on the streets and became hooked on drugs at a very early age. Progressing worse and worse, Imprint began chasing this illustrious lifestyle as a way to buffer personal issues and eventually ended up in custody fighting a six year bid in prison. Through these moments, Imprint realized a change needed to happen.
To come through the other side and be as successful in the Beat100 Music chart as MC Imprint has is a real credit to the artist & the Beat100.com. Imprint has racked up thousands of views in such a short period of time and sets a great example to any other young artists feeling down & out. MC Imprint bags a cool $350 cash prize for the first place video upload.
Beat100 believes MC Imprint will benefit from winning the monthly music chart & go on to do big things demonstrating the true power of uploading videos onto the social network. Watch MC Imprints video 'Dancing in the Shadows
The December Music Chart is the first Beat100 chart to have 1st, 2nd & 3rd all from different countries which magnifies the rate at which Beat100 fever is spreading across the globe.
The Music Chart is by no means the epicentre of which Beat100 revolves around as the Video Lifestyle chart keeps throwing a few curve balls which attracts the social networks attention directly to what's on show.
Decembers Video Lifestyle Chart winner was Dan Marshall from Canvey Island, Dan's upload shows the young man in question skilfully juggling & show boating for the camera leaving the viewers mesmerized with a distinct feeling of envy with one network user stating "I'm so jealous, I wish I could juggle like that!" Dan is a well-deserved winner of the Beat100 lifestyle chart & epitomizes what Beat100 is all about, if there's a talent to be seen, no matter how small, upload it!
Essex boy Scott Donovan rightfully takes place in the top three by finishing second in the Video Lifestyle Chart pulling of BMX stunts with ease & showing how far ones talent really can be pushed. Since joining Beat100 Scott has achieved alot of attention & followers & is leading the way for all BMX riders out there. Scott's video shows the young talent tricking out a favourite BMX haunt, Legacy XS with a crowd of spectators in awe of what's being performed.
3rd place went to Beat100 user 'Kevincio' who put together a montage of his victories on popular video game Battlefield 3. The upload named 'Hooah for Battlefield 3' will undoubtedly have avid gamer's tuned in picking up tips. Viewers can see all the top three Video Chart victors & all previous months' winners by visiting http://www.beat100.com/winners/lifestyle/
Beat100 goes into a new year with big plans, more live events and more opportunities for all Beat100 users but most importantly more uploads to keep the viewing public entertained & inspired.
For information regarding how to apply to play at a Beat100 live event or showcase, please email: James Higgs, Head of Beat100 Live Events, jame(at)beat100(dot)com.
# # #