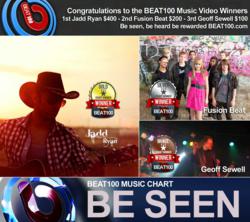 Jadd tells BEAT100. "Everything I had was taken away from me from the Iranian Government. It was so cruel. I don't want to talk politics, but doing music is kind of a crime here."
(PRWEB) October 17, 2012
Jadd Ryan isn't a regular first place winner here at BEAT100. The Iranian musician, real name Sajjad Taherian, managed to receive 2106 votes and 9206 views whilst being in the chart despite the limited use of internet in his home country of Iran. The talented singer/songwriter is unable to use sites, such as BEAT100 and Facebook, freely due to bans in Iran, yet still managed to work his way up the first place is just a month. Jadd has proved that he is an extremely dedicated and multi-talented musician, due to his talents in singing, songwriting, music and video production and his ability to play both guitar and piano. Although Ryan has an immense passion for performing, he mainly focuses on production now and recently took courses in music production and sound engineering at the well-known Berklee College of Music, based in Boston, Massachusetts (US). Jadd has been working in his own personal recording studio over the past few years and has collaborated with many artists in Iran.
Although he has had a tough time due to his passion for music in Iran, he hasn't let it stop him doing what he does best. "Music is my life" says Jadd. "It's my goal, my everything and nothing is going to stop me from doing it". After hearing Jadd Ryan's inspirational story about his struggle to do what he loves, we've come to realise that what he says is true. "I was arrested and imprisoned for a couple of months for doing music", Jadd tells BEAT100. "Everything I had was taken away from me from the Iranian Government. It was so cruel. I don't want to talk politics, but doing music is kind of a crime here."
Jadd has a passion for several genres of music, but country appears to be his strongest influence. "I've had the chance to work with so many artists in Iran but what I'm really looking for is to seen in an international market and to work with famous country artists," says Jadd. The singer is influenced mainly by country artists, such as, Kenny Chesney, Keith Urban and Brad Paisley and believes you can gain a lot of exposure and experience from covering songs; however, Jadd is planning on releasing some of his original songs soon. Jadd is also a volunteer at The Children's Music Foundation, which is a project created to give children around the world free music lessons and focuses on creating peace, love and freedom through music. "I've had such a great journey and I thank everyone at BEAT100 for their hospitality towards me", says Jadd.
For the third time, teen-band Fusion Beat have managed to place in the top 3, this time in second place, with their cover of "I Got The Music In Me" by KikiDee. The talented young musicians received 5,062 views and 1,624 votes for their cover and continue to wow users with every upload. If you want to read more information on Fusion Beat's last win, where they finished in first place, click here.
Singer-songwriter, Geoff Sewell, placed in third place in the BEAT100 Music Video Chart with his original song, "I Do", which was written for his wife, Sharon, back in the 80s. The video was edited by Geoff's daughter, Juliette Sewell, and it received a BEAT100 Silver Award for the high quality video and a BEAT100 Gold Award for the well-written song. Geoff's main influences include artists, such as, T-Rex, Bob Dylan, Queen and Sting. Sewell has made many achievements throughout his musical career, including writing and touring with Lou Dalgleish and reaching the Top 20 in Japan with their original song, "Sold Out", which featured on Dalgleish's debut album. Geogg has also supported some massive artists, such as, Brian Ferry, Paul Young and Tony Hadley. Although Geoff enjoyed his solo career, he has now reformed with his old band, Ricochet, including members Dave Gough (guitar), Mick Collet (drums), Neil O'Neil (bass guitar) and Geoff on vocals.
"I found BEAT100 via a post on Facebook from the husband of Lou Dalgleish, Michael Western King, and found it to be a perfect launching board for making new friends, music contacts and promotion. It fills a huge gap in the market," says Geoff. "Being a musician often takes more than it fives back and is always an uphill struggle. How I got here, only God knows!"
By Kelly Donovan