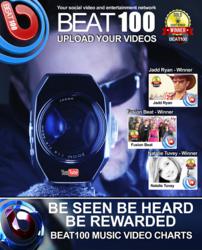 BEAT100 MUSIC VIDEO CHART WINNERS 11th Nov 2012. (1st) Jasmine Thompson $400 (2nd) Josh Taylor $200 (3rd) Clever $100
(PRWEB) November 20, 2012
BEAT100.com, the all new and exciting social and video music network that has it all is gaining momentum fast approaches its first year of being live for users to share videos with the internet community. BEAT100 is a unique chance for social networker's to stay connected using familiar tools such as sharing videos, status updates, pictures and more.
However, where BEAT100 really stands out from other social networks is in its dedication to supporting Unsigned Bands, Musicians and other talented people to gain exposure. The brand new social music video and entertainment network offers users the chance to enter its Music Video Chart. Anyone who enters BEAT100's music charts will be in with a chance of winning cash prizes and worldwide exposure!
The BEAT100 Music Charts are a perfect opportunity talented people to upload a video and showcase their talents to the world. BEAT100 Management said: "We are really excited to have been live on the web for a one year already. We are dedicated to nurturing talent and therefore want more people to get involved.
BEAT100 is not solely dedicated to helping talented people gain exposure though. BEAT100 is intended to be a platform upon which users can build an online community, share videos with each other and just have fun. Users that do not wish to enter the music charts will still be able to enjoy a unique social networking experience and all videos will be stored on BEAT100's video network.
Users have access to a fully integrated music downloading system as well as online gaming. Videos can also be uploaded to BEAT100's network for all users to enjoy. The winners of BEAT100's music chart are announced every 14 days. Signing up to BEAT100 really is too good an opportunity to miss! The Social Networking site that has it all is completely free to use and an exciting new way to broadcast talent around the world... There is no other online community that can offer cash prizes and all of your social networking needs.
Simply visit http://www.beat100.com for a networking experience exclusive to BEAT100 that is easy to use and becoming more popular by the second.