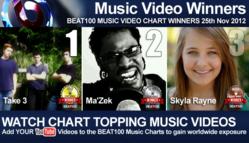 (PRWEB) November 29, 2012
Philadelphia based band, Take3, consists of four young boys, Asher Goldfinger, Michael Godfrey, Owen Crowley and Daden Goldfinger, who met in the high school choir and decided to begin a musical journey together. The Coldplay influenced band found that their different approaches to music complimented each other's abilities. After a few jamming sessions after school, the boys soon discovered they were something special and decided to officially come together as TaKe3. The boys received a BEAT100 Bronze Award for their high performance qualities and recently won bonus votes for the new BEAT100 Bronze Award for most viewed video in a week. Their BEAT100 Music Video Chart entry was a cover of Green Day's, "Boulevard of Broken Dreams", which received 3,441 votes from BEAT100 members and over 10,000 video views. "The band is grateful for the BEAT100 experience, which has connected [us] to new friends of all ages with a passion for music", says TaKe3.
The four dedicated teens manage to balance both their musical related activities, such as performances and rehearsal time, with their full time education, coursework and competitive teams. Owen, Asher and Michael are all sophomore's at Conestoga High School in Berwyn, PA and the younger Daden is an eighth grader at Valley Forge Middle School in Wayne, PA. Self-taught guitarist and vocalist, Owen Crowley, is a member of the advanced school choir, one of the Conestoga football team quarterbacks, and also anchors for the T/E television studio. The talented pianist and vocalist, Michael Godfrey, is also a member of the advanced school choir, and can also be seen starring in plays and musicals at Stoga Theatre. Asher Goldfinger is a classically trained violinist and is also a member of the advanced school choir, Science Olympiad and Philadelphia Youth Orchestra. Young drummer, Daden Goldfinger, is a member of the Jazz band and recently studied at the Stanford Summer Jazz Program. TaKe3 can be seen performing frequently in the Greater Philadelphia area, opening for recorded bands, fund raisers and large community awareness events.
Second place in the BEAT100 Music Video Chart was awarded to rapper and singer, Ma'Zek, from Houston, TX. He worked on his original upload, "Take Away The Pain" with music producer, James Kennedy, music manager, Kat Moon, and videographers, James Potts 1st AD and the Potts brothers. The video received 3,100 votes and over 13,000 views, which landed him a BEAT100 Silver Most Viewed Award for being the second most viewed video over the period of seven days. Ma'Zek's video also received a BEAT100 Gold Award for his well-written original song, a BEAT100 Silver Award for his high quality music video and a BEAT100 Bronze Award for being classed as a 'favourite' by a member of the BEAT100 Team. "BEAT100 has been an enjoyable experience meeting new artists and making new friends," says Ma'Zek. "It's been a lot of hard work, but I feel it's an experience that will help me to develop even more as an artist. Being voted in the top three globally has been, so far, one of my biggest achievements."
The Michael Jackson influenced artist was first exposed to gospel, classical and R&B music by his family, due to their passion for the art, and Ma'Zek later expanded his horizons and began listening to other genres, such as alternative rock, rap and screamo. Ma'Zek aims for his music to touch his listeners emotionally and to help them find who they really are and feel educated or enlightened through his lyrics. "I came to realise that I wanted to encourage people to discover who they are, not change just to fit the norm, and be true to yourself," says Ma'Zek. "My biggest inspiration is my son. I always want to do right by him and show him that my dreaming big and working hard, you can achieve life goals that you set for yourself."
Young featured artist, Skyla Rayne, came third in the BEAT100 Music Video Chart after her tremendous climb to the top in just under a month. Skyla's video, "Butterfly", received two BEAT100 Gold Awards for her flawless original song and for being selected as a favourite by a member of the BEAT100 Team. Skyla also received a BEAT100 Silver Award for her impressive original video and has previously been mentioned as a featured artist in a BEAT100 press release. The 12-year-old singer/songwriter received over 9,000 views on her video and 2,243 votes from other supportive BEAT100 users, who also recognize Skyla's immense musical talents.
Skyla worked on her uploaded track, "Butterfly", with famous San Diego-based music producer, Alex Cantrell, who also worked on Jojo's famous song, "Get Out (Leave)". Skyla aims to promote anti-bullying through her original song and it has been played in local schools to students in order to support Skyla's message to young teens. Rayne displays mature vocals for her age in this catchy pop track and aims to sing more emotive music in the future, in a similar style to Christina Aguilera, Adele and Alicia Keys. However, Skyla feels her current genre of music is more relevant to her age and target market and will therefore continue with this for now. Skyla also wants to focus on her acting career and aspires to be on a Disney or Nickelodeon television show in the near future.
BE SEEN – BE HEARD – BE REWARDED