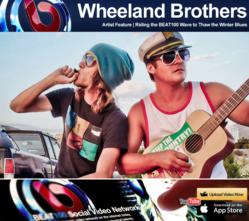 Check out their BEAT100 profile today and experience the California sensation, or get wiped out by this charismatic twosome.
(PRWEB) February 01, 2013
Get ready for the California sunshine with this beach rock-reggae duo, you'll be grabbing that surf board in no time!
Nate and Travis Wheeland have taken the BEAT100 Originals Music Video Chart by storm with their upload, "Sand In My Sheets". The Wheeland Brothers received a BEAT100 Gold Song Award, Gold Video Award and Silver Favourite Award, helping the talented twosome climb to a high spot in the chart before their personal promotion can even begin! The duo gave BEAT100 an insight on where their unique sound originated from: "We grew up as brothers listening to a lot of Sublime, Jack Johnson, Red Hot Chilli Peppers, Bob Marley. We even like to jam out to Kanye West sometimes!" says Nate, "Early on as brothers we loved to sing and goof around. When we started to really get into writing songs we just fell in love with it."
The brothers began writing their debut album, Toast to the Coast, in 2010, the catalyst being their trip to Kalalau on the island of Kauai. By joining forces with friends Marcus Agundes and Brandon Lark they developed their sound to become a live band and have been performing all over the orange county ever since. The band released Toast to the Coast in May 2012 alongside the video for their first single 'Sand In My Sheets'. Since then, there's been no going back.
Travis and Nate's BEAT100 entry, "Sand In My Sheets", has been played in big chain stores including Hollister Co. and they have opened shows for the inspiring Californian singer, Donovan Frankenreiter. They performed at iconic venues across their home state including The Troubadour, The Catalyst, The House of Blues, and The Roxy Theatre. They released their second single In with the Newport in October, starring surf-star Tia Blanco. Both their singles reached #4 and #8 on Californiality.com's top 30 California Songs, the only act in the chart to secure two places! They have been nominated for 2 OC Music Awards for Best New Artist and Best New Video as well as competing in the showcase series for Best Live Band. How could it get better?
"[The album] was inspired by waves, hangin' with friends, and dreaming of distant shores," Nate explained. The band's ability to reflect these ideas into their music is an obvious factor of their success. Their uplifting lyrics, singable melodies and reggae-hip hop-ukulele fusion instantly create an image of good times on the beach in the summer heat.
The Wheeland Brothers are already making the next big steps to reach even bigger heights. Competing in the OC Music Awards Showcase on the 5th February; playing the Cali Roots festival in May; and taking the world by storm via BEAT100. "We would love the opportunity to have 'Sand in My Sheets' promoted on Beat100.com," says manager Jamie Wagner on his admiration of the site, "We appreciate being able to maximize the opportunities with you!"
So check out their BEAT100 profile today and experience the California sensation, or get wiped out by this charismatic twosome!
BE SEEN - BE HEARD – BE REWARDED
By Rebecca Blaker