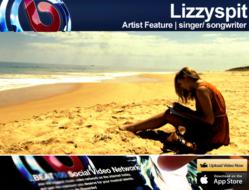 While managing her busy schedule, Lizzy has found BEAT100 an ideal network to connect with other musicians. "I love BEAT100 because it's such an open, creative space," says Lizzy
(PRWEB) February 14, 2013
Her songs are passionate, meaningful, emotional and, as she continues to move up the Original Music Video Chart for her song "Undoubtedly You", singer/ songwriter Lizzyspit has quickly established a growing fanbase on BEAT100 for her distinct nu-folk sound. Dubbed as "nu-folk" due to her incorporation of folk-like story telling elements within her original lyrics, Lizzyspit's melodic vocals and solo acoustic guitar have already won her BEAT100's Gold Song Award, Gold Performance Award, Favourite Gold Award, Gold Video Award, and others.
A classically trained singer since the age of 11, Lizzy established her passion for music at the age of 17 when, after experimenting on her Dad's guitar, she discovered her love for songwriting and performing. Since then, she's established a truly unique sound and ability to write songs that captivate her listeners. Though influenced by a wide range of artists from The Doors to Lana Del Rey to Blink 182, Lizzy's primary songwriting inspiration originates from everyday experiences. "Inspiration to me is everywhere," says Lizzy. "It usually hits me when I'm not looking." Her songs are often based on personal life situations or those of someone close, but also from words, conversations, or pictures that catch her attention.
Not only does she impress with her songwriting ability, but also in her creative approach to showcase music to fans. In addition to releasing original songs, videos, and covers on a regular basis, Lizzy is currently planning her "Into The Plus" world tour, beginning in March, during which she'll perform nine shows in nine different time zones all over the world while streaming live on YouTube and Google+. This proves an impressive feat as she's also recording a new CD and planning to release additional music videos in the coming months!
While managing her busy schedule, Lizzy has found BEAT100 an ideal network to connect with other musicians. "I love BEAT100 because it's such an open, creative space," says Lizzy. "You're in a forum where people are actively seeking out new music and there's a whole host of music to listen in return. I'm happy to be a part of it."
Visit Lizzyspit's BEAT100 profile page to listen to her music, add her as a friend, and vote for "Undoubtedly You" on the Original Music Video chart. You'll soon find her soothing lyrics and exceptional performances brightening your day. "Music makes my world go around," says Lizzy. "I love how a song has the power to change your day, your mood, and sometimes even your life. [Music] is like your best friend, always there for you no matter what. It's never going to let you down."
Note: Lizzyspit is nominated for a YouTube Shorty Award, recognizing the best individuals in social media. She's currently ranked in third place, with a week of voting remaining.
BE SEEN BE HEARD
By Dylan J.K. Vogt