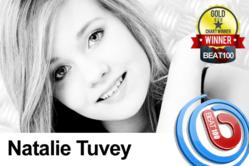 The teen clearly shows her inspiration other female singer/songwriters, such as Adele and Jessie J, in her current track, "Tear Me Apart", through her impressive lyrics and complex melodies that are used
(PRWEB) October 03, 2012
Yorkshire, UK, based Natalie Tuvey managed to top the BEAT100 Music Video Chart this September with a massive 1,698 votes and 9,576 views with her original song, "Tear Me Apart". The talented 13-year-old singer/songwriter was awarded with a BEAT100 Silver Award for her well-written originals song and a BEAT100 Bronze Award for Tuvey's impressive video, which accompanied her beautiful vocals. Tuvey's catchy tune, "Tear Me Apart", is only the third song the up-and-coming songwriter has written; yet it has not failed to impress BEAT100 viewers and voters. With 770 likes on Facebook and just under 1 million overall video views on YouTube, the teen sensation is bound to be seen breaking the industry before you know it.
Although the blossoming teen has been performing from a very young age, she has only been receiving vocal training for three years. To date, Natalie has taken several musical theatre exams, in which she received high marks, and has also participated in musicals, such as Les Miserables and High School Musical. However, Natalie found her true passion in songwriting at the age of 11 and has taken her original material very seriously since then and wishes to set on a career path to success in the current pop charts.
The teen clearly shows her inspiration other female singer/songwriters, such as Adele and Jessie J, in her current track, "Tear Me Apart", through her impressive lyrics and complex melodies that are used. Tuvey has now written approximately 15 songs and her material will continue to grow in maturity and talent, as will her vocal ability. The teen sensation plans to release her debut album in mid-2013, featuring her original material, with the help of musician Rob Elliot who arranges the music to all of Natalie's songs. We hope to see more of Natalie Tuvey blessing the world with her talent in the near future.
Robert Wild and Steven Welsh found themselves in second place with their emotional track, "So Let Eternity Start". The talented duo, Wild & Welsh, recently licensed a track to massive record label, Universal Germany, who stated that it was the most creative track they had heard in years. The two musicians believe that music is something that is inside all of us and it comes from the expression and love within them. "A personal achievement that stands out to us is playing a charity gig for mentally and physically handicapped children and young adults", says Welsh. "The warmth and energy generated by it and the fact that Rob [Wild] went out into the audience, bringing everyone together, will always stay with us."
"BEAT100 has come to mean a lot to us. Since joining, we have met friends from all over the world, found new fans and followers and it has brought more attention to our Twitter and Facebook pages", they say. "We have found it a humbling experience and the support and positive comments we have received have been overwhelming."
Yet another young, talented musician, under the name of Andrea Joyce, received third place this week in the BEAT100 Music Video Chart. The 14-year-old singer uploaded a video of herself performing Miley Cyrus' famous song, "The Climb" in front of a live audience. The young Canadian is strongly influenced by country music, including artists such as Carrie Underwood, Faith Hill and Mariah Carey. Andrea says, "I have been overwhelmed by the number of great people and relationships made over the past few weeks through BEAT100.com, as well as the great exposure. This is my greatest achievement to date!"
Andrea wishes to inform every one of her efforts to donate to the Leukaemia & Lymphoma Society of Canada in memory of her friend, Alexis Marie Smith (14), whom recently passed away on Friday September 28th, 2012. Joyce has decided to donate her BEAT100 Music Chart winnings to this requested charity by Alexis' family and she will be greatly missed by all that knew her. You can read more about Alexis Marie Smith and can also make a donation by following this link: http://www.brenansfh.com/obituaries/73683