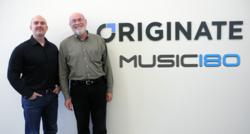 Music180.com will fundamentally change how emerging artists get discovered and developed.
Los Angeles, CA (PRWEB) April 12, 2012
Music180.com, an online talent marketplace and artist development firm based in Hollywood, has received an investment from Silicon Valley and Los Angeles venture firm and start-up accelerator Originate. The deal will provide means for emerging talent to get discovered through a new online platform that combines the professional connections of Linkedin.com with the talent discovery and development of The Voice and American Idol.
Originate will invest substantial web development resources to facilitate Music180's artist-to-pro collaborations, building upon what is already the world's premiere online network of music industry professionals. The investment will earn Originate a minority share in the company.
Music180.com has developed technology to revolutionize how emerging artists take their careers to the next level by connecting and collaborating with industry professionals. For decades, access to the all-important songwriters, producers, managers and publishers who build careers for new artists has been extremely limited. Music180 disrupts the traditional record company model by providing direct access to industry professionals and their services, as well as directly coordinating independent development and production projects.
Originate Partner Jeff Scheinrock commented, "We meet many companies and entrepreneurs each week, and we saw well over 100 deals before we chose to work with Music180. With our technology and value-add resources, Music180 will launch a new platform that will fundamentally change how talent is found and developed."
"We are excited to work with Originate," says Music180 Founder and CEO Eric Galen, once an aspiring musician himself who has spent the past decade as an entertainment lawyer and talent development coach in Los Angeles. "We have been searching for a technology partner to help us realize our vision and take our platform to the next level, and we look forward to doing big things with Originate."
About Originate: Originate is headquartered in Silicon Valley and Los Angeles and has satellite offices in China, Las Vegas, and New York. Originate draws from the best characteristics of the venture-investing ecosystem to synthesize a new investment model called "Value Added Venture." Originate works with early-stage ventures as well as more established companies that are positioned for explosive growth, typically investing technical, design and strategic resources.
About Music180.com: Launched in Summer 2010, Music180 has partnered with over 400 of the world's most successful music producers, songwriters, publishers, managers and other professionals who use Music180 to sell services, offer advice and find new talent. This unrivalled roster of professionals have collectively written over 1,000 hit songs, sold over 40 billion records and work with many of the world's top artists, including Katy Perry, Rihanna, Metallica, Aerosmith, Chris Brown. Music180 is run by music and entertainment industry veterans based in Los Angeles and New York, and has already discovered and developed a number of new artists, songwriters and producers who have advanced their careers with Music180.