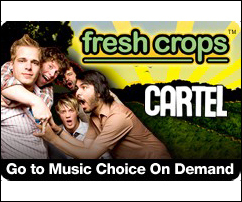 With their unique sound and undeniable talent as songwriters, Cartel is destined to quickly grow their fan base worldwide as more fans are exposed to their music
New York, NY (PRWEB) March 5, 2007
Music Choice, the leading multi-platform music network, announced today that Epic Records' pop punk band, Cartel, will be featured on the Music Choice original show 'Fresh Crops' in March on the network's free video-on-demand (VOD) music service, the most popular free VOD service in the country. Cartel took time out from their current tour to talk exclusively to Music Choice about the buzz surrounding the re-release of their debut album, Chroma, on Epic Records. The band members also open up about how they struggled through odd jobs, and living in a van for two years, before hitting it big in 2006.
Cartel, a five-member band from Atlanta, Georgia, came onto the music scene in 2004. Chroma, put them on the music map as one of the best pop punk bands of today. Alternative Press recognized their talent early on and put them on their 2005 list of "Bands You Need to Know". Following that distinction, the band went on to sign with Epic Records in March 2006, moving up from The Militia Group (a division of Sony BMG Music Entertainment). The band is currently on a 27-city tour - with performances scheduled in California, Ohio, New York, Pennsylvania, Florida, and many other cities. The touring schedule can be found at: http://www.cartelrocks.com/main.html
"With their unique sound and undeniable talent as songwriters, Cartel is destined to quickly grow their fan base worldwide as more fans are exposed to their music," says Justin Prager, Director of Rock and Pop Programming for Music Choice. "Fresh Crops is a perfect fit to showcase the talent of this band with endless potential."
Fresh Crops featuring Cartel will be available to Music Choice viewers with access to its on-demand music service throughout the month of March to watch whenever, and however often, they like at no charge. Fresh Crops featuring Cartel can also be viewed on the Music Choice network's free broadband music service throughout the month of March.
About Music Choice
Music Choice is the leading multi-platform music network that reaches millions of consumers nationwide through their TVs, online, and cell phones. Music Choice programs both video and audio music channels, produces exclusive music shows, films in-studio artist performances and interviews, and distributes daily entertainment news. Music Choice is a partnership among subsidiaries of Microsoft Corporation, Motorola, Inc., Sony Corporation of America, EMI Music and several leading U.S. cable providers: Comcast Cable Communications, Cox Communications and Time Warner Cable. MUSIC CHOICE® is a registered trademark of Music Choice. Visit the Music Choice website at http://www.musicchoice.com.
###