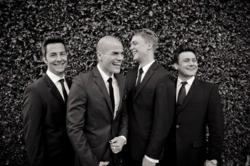 Cincinnati, OH (PRWEB) March 14, 2012
Under the Streetlamp, America's hottest new vocal group, delivers an electrifying evening of classic hits from the American Radio Songbook. These four magnetic vocalists bring their unique blend of tight harmonies and slick dance moves to Cincinnati, OH at PNC Pavilion on Sunday, June 24th. Concert-goers will hear their favorite Doo-Wop, Motown, and old time Rock 'n' Roll hits from The Drifters, The Beach Boys, The Beatles, The Four Seasons, and more. The quartet is composed of recent leading cast members of the smash hit Jersey Boys: Michael Cunio, Michael Ingersoll, Christopher Kale Jones, and Shonn Wiley. Exuding the irresistible rapport of a modern day Rat Pack, Under the Streetlamp proves why retro never sounded so now!
Fans of PBS across the country are in for a special treat in March with the announcement that 'Under the Streetlamp' will be featured on PBS stations across the country and viewers will have the chance to special order the DVD or CD of "Under The Streetlamp" upon making a donation to their local PBS station.
Under the Streetlamp will make a stop in Cincinnati, OH at PNC Pavilion on Sunday, June 24th. Reserved tickets 27.50, $35.00 and $39.50 (plus applicable fees) go on sale to the public on Monday, March 19 at 10:00 a.m. at http://www.ticketmaster.com, http://www.pncpavilion.com, and all Ticketmaster outlets including select Kroger stores. Charge by phone at 1.800.745.3000.
"When we all started doing cabaret together in the Chicago area, we realized that the audience was responding not just to these great songs but the synergy between the four of us," explained Michael Ingersoll. As a result of the huge following Under the Streetlamp developed in the Chicago area, they now take their talents on the road this summer for their first national tour.
For more information, please go to http://www.underthestreetlamp.com.