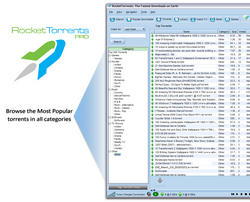 Some power-users who were involved in our beta testing of this feature have reported that the new 'Top Torrents' tab has now become their primary way to find popular files.
Toronto, Canada (Vocus) September 23, 2009
With students back to college and high school, file sharing activity is once again surging upward. But with the popular Web site The Pirate Bay embroiled in legal and possible-sale struggles, file-sharing pirates may be looking elsewhere for their plunder. One new option is Rocket Torrents, a file-sharing management software, which today announced that it has become the first of its kind to provide instant access to Internet's most popular torrents.
The software's new feature, called "Top Torrents," allows users to view constantly-updated torrent download rankings from global activity across all torrent sites, according to the company. Once the desired content is found a user can click once to instantly download the torrent file via a Web site that is hosting it, bypassing the need to search multiple Web sites such as The Pirate Bay, Mininova and isoHunt. Top Torrents is found under the "Torrents" tab in the software interface, beginning with the 5.2.3 software release of Rocket Torrents.
"Other companies have been attempting to track this sort of global torrent activity, but the data is usually just syndicated out to Web sites where it quickly becomes outdated," said Paschal Rousseau, a Rocket Torrents developer. "Rocket Torrents is the first to provide this data to users, live and in near-real-time, and from right inside the client software."

Watch a 60-second video demonstration of the Rocket Torrents software on YouTube: watch video
View screenshots of the Rocket Torrents interface on Flickr: view screenshots
The "Top Torrents" feature allows users to quickly find and join the Web's most active "swarms," which are groups of concurrent BitTorrent users who are actively downloading and sharing files. Joining large torrent swarms is generally known to produce a more consistently positive torrent download experience. Highly-active torrents download faster, are more reliable, and are much less likely to contain malware or viruses than less-active torrents. The files in the most active swarms are the most popular available and are usually the best quality version of the content.
"Strong, active torrent swarms are a critical element to faster and safer downloading," said Rousseau. "Some power-users who were involved in our beta testing of this feature have reported that the new 'Top Torrents' tab has now become their primary way to find popular files."
Torrent download statistics in "Top Torrents" can be broken out by categories including, "Games," "Movies," "Music," "Software," "TV Shows," and "Other." The rankings are also available by genre. For instance, the "TV Shows" category can be filtered by "Action," "Cartoons," "Comedy," etc. Within any category and genre in "Top Torrents" users can select whether they want to see the top download activity for "Last Day," "Last Week," "Last Month" or "Last 6 Months."
The most recent version of Rocket Torrents is available as a free download.
About Rocket Torrents:
Rocket Torrents is a powerful music downloads, P2P and torrent management software that supports both Gnutella and BitTorrent download protocols, as well as live video and streaming music. Rocket Torrents employs the classic version of LimeWire "Pro" as the starting point for its software code, and then makes it best-of-class by adding additional enhancements and features. Typically there is a payment required for Pro-level functionality, which provides more connections and faster results than the basic "Free" version. However, Rocket Torrents includes Pro functionality at no charge. Additionally, Rocket Torrents contains proprietary technology that accelerates downloads up to ten times faster versus other clients. The software is unique in that it also supports and manages live TV, movie and music streams, as well as online radio and Flash games. Rocket Torrents is the safest peer-to-peer client available. It includes the most robust fake file and spam filters in the industry and provides unique protection against inadvertent file sharing of a user's sensitive information. It also includes an industry first—global popularity rankings of active torrents from within the software application, which allows users to have instant access to Internet's most popular torrents. The software also provides rankings of the most popular Gnutella network downloads. Rocket Torrents is guaranteed not to contain any trojans, adware or spyware, and is available as a free download
More information about Rocket Torrents can be found at http://www.rockettorrents.com.
Contact:
Rocket Torrents
Phone 416-981-3135
###