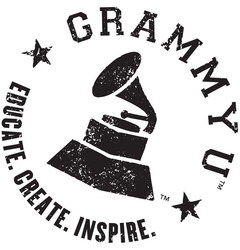 It helps keep my fire ignited and my focus clear by putting me in the front row of what I want to do. It cost $50 to join for four years, and it paid for itself in the first event.
Santa Monica, Calif. (Vocus) September 16, 2008
GRAMMY University Network™(GRAMMY U™) -- a program for students pursuing music industry careers, created by the music community's leading membership organization The Recording Academy® -- heads back to school for its third year with member success stories, a new membership discount, and kick-off events in Atlanta, Austin, Chicago, Los Angeles, Miami, Memphis, Nashville, New Orleans, New York, Philadelphia, San Francisco, Seattle, and Washington, D.C. More than 350 colleges/universities are currently involved in the program, providing a "real world" perspective on the recording industry and designed to enhance students' current academic curriculum with valuable networking opportunities. More info and a complete list of kick-off events can be found at http://www.myspace.com/grammyu.
"GRAMMY U has evolved and expanded since its inception, and we now have tangible results and success stories of our members that further illustrate our mission," said Robert Accatino, Senior Director, Membership & Marketing, The Recording Academy. "The networking opportunities and relationships that members have cultivated in our 12 Chapters around the country have been invaluable, and many have secured jobs through them. It is proof positive that this program is vital for all who wish to pursue a career in the ever-changing landscape of the music industry."
GRAMMY U members have had career-building experiences throughout the country. Students have secured internships at Atlantic Records, MySpace Records, Warner Music Group, Music World Entertainment (working with manager Mathew Knowles), and more. Many have secured full-time jobs working for such industry veterans as producer/engineer Mike Clink (Aerosmith, Guns 'N Roses, Metallica), five-time GRAMMY®-winning producer and Recording Academy Chair Jimmy Jam (Mary J. Blige, Janet Jackson, Usher), and Sir Earl Toon, songwriter and member of Kool & the Gang.
Performance opportunities have also manifested results. Texas pop/rock band Jupiter4 played at a Texas Chapter event where producer/engineer Chris "Frenchie" Smith heard them, and subsequently recorded their album. They have recently signed with manager Kevin Wommack of Loophole Management (GRAMMY-winning band Los Lonely Boys).
"The best thing about GRAMMY U is that it constantly keeps me inspired by giving me a firsthand look at the artists at work," said GRAMMY U Nashville member Brett McLaughlin, a Belmont University senior and songwriter who recently signed with EMI Music Publishing. "It helps keep my fire ignited and my focus clear by putting me in the front row of what I want to do. It cost $50 to join for four years, and it paid for itself in the first event."
Annual membership in GRAMMY U is at a discounted rate of $25, compared to $100 for other Academy members. Ideal for incoming freshman, the new rate is $50 for four years or until the date of graduation.
The new rates apply to both undergraduate and graduate students. Membership is open to all full-time
college students who want to pursue a career in music or in a music-related field. Majors can include, but are not limited to: Accounting, Art, Business, Communications, Journalism, Liberal Arts, Marketing, Music Business and Music Performing. Members of GRAMMY U enjoy many of the benefits offered to Voting and Associate members of The Recording Academy, but at a quarter of the cost of membership.
What Will GRAMMY U Do for Me?
GRAMMY U students participate in a variety of events, including Up Close and Personal events, where students are able to talk to a band in a small, intimate setting; In The Mix® networking events, which focus on bringing students together to meet and share ideas, as well as interface with industry professionals; Demo Critiques, which allows students to have their work reviewed by a panel of music industry executives; and GRAMMY SoundChecks®, which provide students with a behind-the-scenes look at touring and performing live. Other opportunities include career workshops, performance and career opportunities, benefits and discounts, feedback from industry professionals, internships, and more.
Where Can Students Find GRAMMY U?
Students and colleges can sign up through all 12 Recording Academy Chapters: Atlanta, Chicago, Florida, Los Angeles, Memphis, Nashville, New York, Pacific Northwest, Philadelphia, San Francisco, Texas, and Washington, D.C. Select universities have a faculty/staff advisor and a student representative who, with the help of the local Recording Academy staff, are responsible for the recommendation and implementation of programs and events on campus. The student representative is the liaison between the local Chapter, the student membership and their committees, empowering GRAMMY U students to be active in music industry events.
Established in 1957, The Recording Academy is an organization of musicians, producers, engineers and recording professionals that is dedicated to improving the cultural condition and quality of life for music and its makers. Internationally known for the GRAMMY Awards -- the preeminent peer-recognized award for musical excellence and the most credible brand in music -- The Recording Academy is responsible for groundbreaking professional development, cultural enrichment, advocacy, education and human services programs. In its 50th year, The Academy continues to focus on its mission of recognizing musical excellence, advocating for the well-being of music makers and ensuring music remains an indelible part of our culture. For more information about The Academy, please visit http://www.grammy.com.
# # #