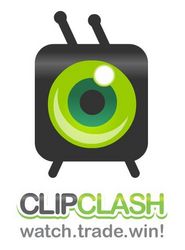 We are incredibly excited to bring our vision for ClipClash to life, making online music video viewing even more compelling by adding strategy, fantasy game play, social interaction and fun to the user's formerly passive online viewing experience
New York, NY (Vocus) September 28, 2010
Today ClipClash™ announced the release of the Beta version of its revolutionary online music video / fantasy game experience. Combining online fantasy game play with the public's insatiable appetite for music videos, ClipClash transforms its members into fantasy Video Jockeys. With ClipClash, members program their own music video channels by virtually buying and selling music video clips with "Goldies" (the ClipClash virtual currency) and competing with friends and other members in a race to build the hottest music video channel.
"We are incredibly excited to bring our vision for ClipClash to life, making online music video viewing even more compelling by adding strategy, fantasy game play, social interaction and fun to the user's formerly passive online viewing experience," said Offer Kohen, Founder & CEO of ClipClash.
ClipClash members compete in "Game Rounds", with scoring based on various elements, such as changes in channel playlist value and the amount of channel viewership during the game round. A member's playlist creation strategy is central to building the most valuable music video channels, with members including not only what they like and current hot videos, but also what they believe will be the next hot music videos. As a result, music discovery and trend-spotting are important player skills, with members showing their programming chops and investment acumen by adding music video clips when they are cheap and watching them rise in value as their popularity grows. Depending on the game round, members whose channels increase the most in value win real prizes or more virtual Goldies, as well as status and recognition among their peers.
Social networking also is an important feature of the ClipClash platform, enabling members to add friends to their buddy list, have real time chats, send clip recommendations, learn which clips their friends are buying and selling, and even purchase music video clips to send as gifts to friends for inclusion within their music video channel.
ClipClash is completely free to join and to help users get started, all new members receive 100,000 Goldies and a random playlist of music video clips worth 20,000 Goldies (which members can either sell or keep as part of their channel). Members can also buy more Goldies for as little as $3 if they want to invest in their channel by adding more popular music videos to increase their competitive edge.
"In addition to creating a fun new user experience, ClipClash adds a new dimension of 'stickiness' to online video sites and provides them with an innovative new means to grow their revenue base," added Kohen. "While music videos represent the focus of our first Release, the ClipClash platform will soon be extended to other types of video clips, such as sports, movie, comedy and UGC (user-generated content) clips."
To try this new one-of-a-kind music video social network yourself, please visit ClipClash.com.
About ClipClash
ClipClash is a unique online video clip / fantasy game platform which lets users create and manage their own video channel while interacting & competing with friends. ClipClash also provides video program services with new, added means to monetize their offerings. The ClipClash patented system and sophisticated algorithms continually index and monitor the popularity of individual video clips and assigns each a dynamic, fluctuating price, based on their overall and comparative performance worldwide and within the ClipClash platform. ClipClash Inc. is a privately owned online video platform startup, founded, managed and funded by seasoned Internet entrepreneurs.
###