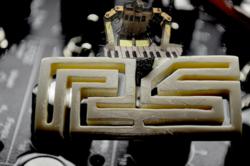 This workshop is a great way for musicians, producers, digital DJs or anyone working with music technology to get a comprehensive crash course from an experienced, well-traveled pro
San Francisco, CA (PRWEB) March 28, 2012
Robotspeak, a San Francisco music production school that also offers musical instruments, DJ equipment, DJ classes and electronic music classes, is currently announcing its upcoming classes and an event.
Throughout April and May, Robotspeak is offering a variety of classes, beginning with "Moldover Workshop: Controllerism and Ableton" on April 14, from 3 p.m. to 6 p.m. In this three-hour interactive workshop, YouTube legend, Moldover, will present all of his knowledge and techniques related to controllerism and live electronic music performance. Topics will include intuitive software mappings, controller hacking, set design, custom instrument design, dub mixing and other subjects. No hardware or software is required to take this workshop; however, it does include exclusive Moldover content for Ableton Live 8
"This workshop is a great way for musicians, producers, digital DJs or anyone working with music technology to get a comprehensive crash course from an experienced, well-traveled pro. There will be a strong emphasis on group interaction, live demonstration and opportunities for hands-on participation," Steve Taormina of RobotSpeak said.
For more information about Moldover, visit http://moldover.com.
The music production school is also featuring a variety of Ableton courses, including Ableton 202/Advanced Ableton, Ableton for DJs and Ableton 101. The Ableton 202 class will take place on April 16 and April 18, beginning at 7 p.m. for $150. The course will review advanced techniques for using Ableton Live, including the power of racks, designing dummy clips, and advanced looper techniques and hacks.
Ableton for DJs, scheduled for May 7 at 7 p.m. and May 9, will cost $150 and include two hours that explains the tips and tricks needed to understand the most efficient way to prepare a DJ set in Ableton. Finally, the Ableton 101 session, occurring on April 23, April 25, April 30 and May 2 at 7 p.m. provides a total of eight hours of instruction on the basics and beyond of Ableton Live. The cost is $250.
"If you want to get up on Ableton quickly, take this class where all of the essentials and more are looked at in Robotspeak's eternally popular Ableton 101," Taormina said.
On March 31, Join Robotspeak and Lovetech for an exquisite evening of delicious and live electronic musicianship. The evening will feature Moldover, a godfather of controllerism; Rich Dot, a neo-galactic whomp warrior; Deep Dimensions, a synth-pop duo; and Mad Zach, a mad controllerist master.
For more information about the upcoming events or any of RobotSpeak's products or services, call 415-230-0840, view the electronic music school on the web at http://www.robotspeak.com, or visit 589 1/2 Haight St. in San Francisco on Wednesdays from 12 to 6 p.m., Fridays from 11 a.m. to 7 p.m. or Saturdays from noon to 6 p.m. Also available by appointment.
About RobotSpeak
RobotSpeak is a music production school located in San Francisco that specializes in teaching basic to advance electronic music, such as handling different DJ equipment to learning music production. Its classes are designed to empower the home and project-studio musician with real-world skills, enabling them to make better music now with gear they actually own.