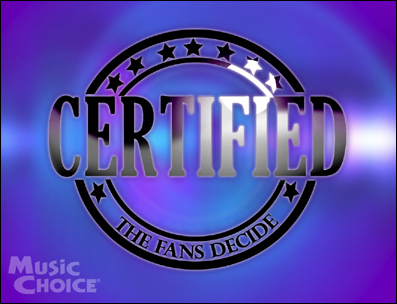 as the Best Interactive Television program in the marketplace today
New York, NY (PRWEB) January 10, 2007
Music Choice, the leading multi-platform music network, was honored at the 3rd Annual DEMMX Awards, taking the award for "Best Interactive Television Programming" for Certified, its hit, interactive music show. Sponsored solely by Cingular, Certified, which launched in July of 2006 on Music Choice On Demand, has garnered more than two million orders. The DEMXX award, which recognizes cutting edge development and forward thinkers shaping the future of entertainment, was presented at a gala dinner held during a two-day Digital Entertainment, Media and Marketing Excellence (DEMMX) Conference in Los Angeles.
"Music Choice is honored that a jury of our peers has recognizing "Certified" as the Best Interactive Television program in the marketplace today," said Damon Williams, Vice President of Programming and Production for Music Choice. "Our goal with Certified was to create a compelling program that would engage and empower our audience to interact with our video-on-demand service. To meet that goal and be honored for our efforts by the DEMMX Awards is thrilling. We are truly committed to creating more interactive programming to drive innovation in the marketplace; Certified is just the beginning."
Certified is a perfect example of how interactive music programming can seamlessly integrate a client's branding messaging into content while engaging an audience. By partnering with Music Choice, Cingular is able to reach the target audience they want for their products and services. An added bonus for Cingular wireless viewers is the unique opportunity to interact with the show thru text messaging, the preferred method of communication amongst their core audience. (Quote from Cingular)
Certified is a monthly music show that engages music fans in a face-off between two hot recording artists. The show is available only on Music Choice On Demand, the most popular free video-on-demand music service in the country. Viewers are able to vote for their favorite featured artist in a variety of categories, such as: dancing, singing, and style, by texting their votes with their Cingular phone, going online to musicchoice.com/certified, or through one-on-one fan interviews captured on the streets of New York City. To date, Certified has showcased a face-off between some of today's hottest artists - including: Beyonce vs. Janet Jackson, T.I. vs. Lil Wayne, and Chris Brown vs. Ne Yo.
The Billboard DEMMX Awards celebrate vision, innovation, entrepreneurship and brand development in digital entertainment. The awards were judged by an elite group of jurors from the digital entertainment sphere. Billboard stated that this year's submissions were of the highest quality with almost every major entertainment company entering the awards, resulting in many hotly contested categories. Particular focus was given to innovation, creativity, content, interactivity and market success.
About Music Choice
Music Choice is the premier multi-platform music network that reaches millions of consumers nationwide through their TVs, PCs, and cell phones. Music Choice programs both video and audio music channels, produces exclusive music shows, films in-studio artist performances and interviews, and distributes daily entertainment news. With offices in New York City and Pennsylvania, Music Choice is a partnership among subsidiaries of Microsoft Corporation, Motorola, Inc., Sony Corporation of America, EMI Music and several leading U.S. cable providers: Comcast Cable Communications, Cox Communications and Time Warner Cable. MUSIC CHOICE® is a registered trademark of Music Choice. Visit the Music Choice website at http://www.musicchoice.com.
###