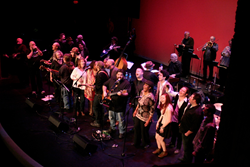 Rev Tor Band and Music in Common join forces to re-create the Band's classic concert film, The Last Waltz, live at Bethel Woods Center for the Arts in Bethel, NY Fri Sept 26th
Bethel, NY (PRWEB) September 26, 2014
Music in Common and the Rev Tor Band announce a special live performance of the Band's classic 1978 concert film The Last Waltz on Friday, September 26 at 8PM at Bethel Woods Center for the Arts in Bethel, NY. The concert features renditions of all the hits by the Band featured in the film, such as "The Weight," "Up On Cripple Creek," and "The Night They Drove Old Dixie Down," as well as songs by Bob Dylan, Neil Young, Eric Clapton and many more. Musicians from the local music scene perform the songs of the film's original special guests. The full line-up of artists includes the Rev Tor Band,
Professor Louie, co-producer of the Band's last three albums; Gabriel Butterfield and Jimmy Eppard of the Gabriel Butterfield Band; Kenny Siegal of Johnny Society; Frank Carillo; Lowell Wurster of Lucid; Danielia Cotton; KJ Denhert; Robert Burke Warren; Gina Coleman and Jason Webster of Misty Blues; Todd Mack; Dorraine Scofield; Ashleigh Catsos; and Frank Messina.
Tickets are on sale now. For sponsorship & playbill advertising opportunities, contact Emily Edelman at emily(at)musicincommon(dot)org or 413-591-8234.
Since 1996 the Rev Tor Band has maintained a powerful presence on the east coast club and festival circuits, performing in venues from Maine to Key West, Florida. In their home stomping grounds of New England, they keep a heavy performance schedule enthusiastically supported by a large following of dedicated fans.
The Last Waltz LIVE is a benefit for Music In Common, Inc., a 501(c)3 non-profit organization whose mission is to strengthen, empower, and educate communities through the universal language of music. Music in Common (MiC) produces free, publicly accessible concerts, school programs, and multimedia productions with an interest in underserved areas and communities where there is a history of conflict, providing a platform for the exchange of ideas and collaborations that can lead to positive social change. Based in Sheffield, MA, MiC has toured to more than 200 communities across the US, Middle East, and Far East, and operates multiple programs locally, nationally, and internationally.
For more information, images, or to arrange for an interview with Last Waltz LIVE musical director Tor Krautter or Music in Common executive director Todd Mack, please contact
Melissa Zeigler, melissa(at)powderfingerpromo(dot)com / 800-356-1155 or Emily Edelman at emily(at)musicincommon(dot)org / 413-591-8234