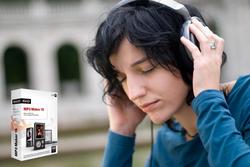 Toronto, ON (Vocus) April 29, 2009
MAGIX releases the newest version of MP3 Maker 15. MAGIX MP3 Maker 15 is your music management software. You can digitize your music CDs and audio books even quicker and easier. Manage all of your music and grow your music collection for any mobile device. MAGIX a leader in multimedia since 1993 and constantly delivers new products and technology to the market.
MP3 Maker 15- Music Management Software - Key Features – Music Management Software
MAGIX MP3 Maker 15 is s a complete music solution for superior music recording, playback, and easy music management.

Acccess your music quickly - You can quickly, rip, burn, record or download your music
Recommend new music – Mufin recommendation module for track suggestions from your own archive or from http://www.mufin.com - Music Recommendation and Discovery. The new Mufin MusicFinder integrated recommendation module also helps you expand your music archive.
Access your music from any device - UPnP Devices like Internet radio or hi-fi receivers may use the auto playlist function in the home network (multi-room music transmission)
Access stations across the web - Take advantage of the integrated webradio's more than 5,000 stations – an unbeatable source for new music.
Clean up all your music ID tags - The program automatically determines so-called ID3 tags, the information source of MP3 songs. These tags are used to categorize your tracks easily and automatically.
Take your music anywhere on any device - Your music collection can be transferred to your MP3 player, iPod, or mobile phone
MAGIX continues to provide a wide suite of multimedia tools to its users. MAGIX excels at solving the needs of users digital lifestyle.
###