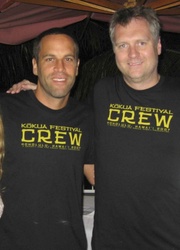 Jack Johnson's music and sustainable lifestyle inspire fans worldwide. This tour is all about music, but it's also a profoundly powerful vehicle for change. This tour is a first-of-its-kind in many ways and fans will experience on a very visceral level how much fun they can have while doing good
MINNEAPOLIS (PRWEB) May 29, 2008
As campaign director for Billboard magazine's number one green artist, Jack Johnson, and his highly anticipated 2008 World Tour, MusicMatters has helped create the green infrastructure and experiential branding components that are making the tour an unqualified success. The tour kicked off in Australia and Japan last month and is set to rock the U.S., Canada and Europe beginning in mid-June. Johnson, whose new Brushfire release Sleep Through the Static is already a number one hit, is passionately committed to greening every aspect of this tour in order to minimize environmental impact. To get there, Johnson and his team worked with MusicMatters to create a low environmental impact tour that generates high environmental awareness and action.
"Jack Johnson's music and sustainable lifestyle inspire fans worldwide. This tour is all about music, but it's also a profoundly powerful vehicle for change. This tour is a first-of-its-kind in many ways and fans will experience on a very visceral level how much fun they can have while doing good," says Michael Martin, founder and Prez of MusicMatters.
MusicMatters has worked with Johnson to ensure that this tour is as green as possible. This includes fueling tour vehicles with biodiesel, offsetting 100% of tour carbon emissions, offering fans the chance to offset their carbon footprint from traveling to and from shows, offering eco-friendly tour merchandise, refillable water bottles and working with venues to reduce waste and recycle. MusicMatters has also helped to create the All At Once partnership with non-profits worldwide. This new interactive community empowers fans to take action toward a healthier community and planet. "Based on the concept that individual action, multiplied by millions, creates global change, the tour will set the new 'green standard' in the industry and encourage established superstar acts and emerging artists to adopt similar campaigns for their tours," according to Martin.
"Michael Martin is a true green pioneer," says Johnson. "He not only understands how to merge music with message, he has brilliance for creating strategies and experiences that move audiences to action. Plus, he and his team bring an authenticity to events that fans appreciate. I consider him an integral part of my team."
MusicMatters Helps Deliver the Architecture for Jack Johnson Tour and Others
The company has been providing the campaign architecture for green tours and events for almost two decades. At the center of the Johnson tour is a first-of-its-kind platform — a worldwide community to bring about environmental change. Read more about it at this link: http://www.musicmatters.net/press/20080528
About MusicMatters
For nearly two decades MusicMatters has made headlines, effected policy change and delivered bottom line results to scores of values-based businesses.
Pioneering a revolutionary process called Effect Marketing™, MusicMatters, through campaigns and strategy development, reaches millions of consumers each year and inspires them to take action. In addition, MusicMatters creates street and retail events to build and drive awareness and sales. The firm is the country's leading live marketing agency for the organic and natural industry.
Clients include Annie's Inc., Jack Johnson, Organic Valley Family of Farms, The Police, Stonyfield Farm, Dave Matthews Band, Earthbound Farm, Horizon Organic, CLIF Bar, Nature's Path, Santa Cruz Organic and more.
The Minneapolis-based firm with a staff of 20 is nationally recognized for the unique, powerful and entertaining brand experiences they create. (See Company Backgrounders in the Media Kit, MUSICMATTER'S GREATEST HITS/SOCIAL CHANGE INVENTIONS on the company's website).
For more information — or to interview Michael Martin — please contact Martin Keller at Media Savant Communications Co., 612-729-8585, mkeller@mediasavantcom.com
MULTIMEDIA GALLERY http://www.businesswire.com/cgi-bin/mmg.cgi?eid=5672269