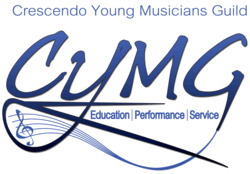 CYMG makes music education available to all children, regardless of their financial status or skill level.
Los Angeles, CA (PRWEB) May 31, 2011
Crescendo Young Musicians Guild (CYMG), a nonprofit music education and community service organization, kicks off their Summer Workshop Series with a free Strings Workshop on Saturday, June 4th from 9:30am-12:30pm at the LA Music Academy. The Strings Apprentice Workshop is one of the various classes, workshops, and events that CYMG offers year-round. In the past few years, the public education system has experienced deep budget cuts that have greatly affected the quality and availability of arts education in schools, and CYMG addresses the voids left in public music education by offering students of all socio-economic backgrounds equal opportunity access to music instruction, and gives more advanced students the opportunity to coach younger students and perform in chamber groups under the guidance of professional teaching artists.
CYMG was founded by Pin Chen, long-time private violin teacher and current Orchestra Director of Arcadia High School's orchestra program of over 350 string students. Chen, David Diaz, and Akhani Cacao, members of CYMG's Board of Directors, all experienced a string of lay-offs from their public high school music teaching positions and are facing lay-offs again this year. Music programs are being cut at record levels. Seeing a need to fill the voids in music education that have and are continuing to grow over the years, Chen decided to take her passion for music, and her belief that all students deserve quality music education, to start a nonprofit organization that would help bring music into the lives of children all over Los Angeles. Chen's personal journey and her decision to start CYMG will be featured in an episode of the television series, Jump Shipp, airing on the Halogen Network this Fall.
What makes the Crescendo Young Musicians Guild unique among other nonprofit music organizations is that CYMG makes music education available to all children, regardless of their financial status and skill level. CYMG is designed to promote a spirit of service while bringing students and families of all cultural and socio-economic backgrounds together to work toward a common goal: to enrich their communities through music. The organization emphasizes community service, peer mentoring, and building important life skills; all students serve the community and the organization while growing as musicians and as members of society through multiple performances throughout the year including formal concerts, performances at charity events and in convalescent homes, children's hospitals, and more.
In addition to the workshop on Saturday, CYMG will be forming chamber groups for intermediate to advanced students during the summer and will also offer training workshops for future student mentors and a Street Percussion class during the summer. Group lessons and mentoring will be offered in the fall.
The Crescendo Young Musicians Guild is currently looking for help in fulfilling their mission. In addition to volunteers, the organization welcomes musical instrument, monetary, and in-kind donations. Visit http://cymg.org for more information about upcoming programming, to register for the June 4th Strings Workshop, and to learn more about how to help. CYMG can also be found on Twitter (CYMGorg) or Facebook (http://www.facebook.com/CYMGorg).
###