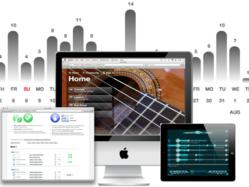 We are honored to win this award and excited about the reception of our plans for revolutionizing music education.
Los Angeles, CA (PRWEB) September 26, 2012
Music Prodigy, creators of interactive education application Rock Prodigy, won first place at the Silicon Beach Awards hosted by the Lloyd Greif Center for Entrepreneurial Studies at the University of Southern California. The venture competition included over 70 start-ups focused on innovation in digital media and technology and culminated in a final round that was held on the USC campus on September 12. The top three finalists were awarded prizes totaling $50,000 plus coveted office space at io/LA, one of Los Angeles newest co-work and incubator spaces.
"We are grateful to the Lloyd Greif Center and USC for making this opportunity possible. It is great to see such strong support for companies like ours that are a part of the growing Silicon Beach community," said Harold Lee, co-founder and CEO of Music Prodigy. "We are honored to win this award and excited about the reception of our plans for revolutionizing music education. We make the process of learning easier, more fun and more effective than ever before, while creating value for every one in the value chain."
This most recent win at USC's Silicon Beach Awards comes on the heels of another start-up competition that Music Prodigy won earlier this summer. In June, Music Prodigy was named the Judge's Winner and Audience Winner at a competition in Silicon Valley hosted by business accelerator Plug and Play Technology Center. Music Prodigy, representing Silicon Beach at the June competition, was the only finalist from Los Angeles in a competition that featured over 30 finalists from around the world.
Practice is the key to learning and Music Prodigy makes practicing fun, effective and affordable. Behind the fun is a complete learning system combining patent-pending algorithms, innovative curriculum, expert-designed lessons and exercises, and the newly released live Dashboard that automatically synchronizes your performance to the cloud and shows students how they compare to others in the Music Prodigy community.
Since the January 2011 release for Apple's ® iPhone®, iPad® and iPod® Touch, Music Prodigy's first product Rock Prodigy continues to sell in over 80 countries. Critical acclaim led to many awards including the 2011 Appy Award in education and the 2011 About.com's Readers Choice Award.
With the recent additions of Dr. Richard Gard from Yale University's School of Music as Chief Education Officer and Dr. Roger Dannenberg from Carnegie Mellon University's School of Computer Science as Chief Science Officer, Music Prodigy is already expanding its offerings to more music disciplines and offer more advanced solutions for music students worldwide.
About Music Prodigy
Music Prodigy is a music education technology company based in Los Angeles focused on changing the way people learn, play and interact with music. Rock Prodigy, the company's first product, is a revolutionary interactive music app powered by patent-pending polyphonic pitch-recognition technology that allows musicians of all skill levels to use any instrument and provide instant performance feedback to accelerate learning.
For more information, visit http://www.musicprodigy.com and http://www.rockprodigy.com
About Lloyd Greif Center for Entrepreneurial Studies at USC
The Lloyd Greif Center for Entrepreneurial Studies is among the nation's leaders in entrepreneurship education and research. Its faculty—a diverse mix of academics and entrepreneur practitioners—together offer undergraduate and graduate programs designed to help students acquire the tools, develop the skills, and cultivate the mindset central to organizing, launching, and managing successful new ventures.
For more information, visit http://entrepreneur.marshall.usc.edu/
About io/LA
io/LA is a place to work, collaborate, and socialize. An entrepreneur-friendly month-to-month membership provides 24/7 entry to an expansive full service work space and access to an unprecedented network of industry leading experts. The mentored incubator program affords start-up visionaries everything they need to create a new company.
For more information, visit http://iola.la/