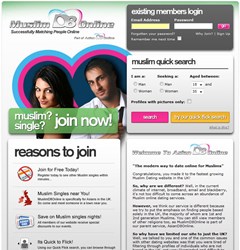 (PRWEB UK) 12 October 2009
London (PRWeb UK) October 12, 2009 -- It was once customary within Muslim communities that family members were allotted the task of finding a suitable marriage partner for their kin, with arranged marriages being the norm. The very notion of dating and marrying of your own accord was frowned upon by family members and the wider community. However, there is now a new service for Single Muslims to find romance in their lives, MuslimD8.com
However with time this is no longer the situation, many Single Muslims, their families and indeed the wider community have broken away from these old practices and broken down barriers to finding love. Yet despite this, another barrier still exist, which transcends all religious boundaries - How and where do you meet your significant other? A majority of Muslim Singles have the added complexity of hectic work schedules coupled with the prevalent factor that they want to meet someone of same faith and religion.
Well for these Single Muslims, Cupid comes in the form of a MuslimD8 one of the fastest growing online Muslim Dating sites for Muslims, and largest Singles event company for Muslims. Both sites are dedicated to helping Single Muslims find love. The company specialises in running speed dating events and Padlock and Key events nationwide for Muslims, Bengali Muslim as well as Sikh, Hindu and Hindu Punjabi communities.
Having run successful events for over six years with countless success stories Amber a previous attendee is one of them. "After attending your speed dating event I met Zeeshan, there was an instant connection and we stayed talking even after the event had finished. We dated for several months and Zeeshan finally popped the question and I said YES - just wanted to say thank you for organising such events and giving me the opportunity to meet my wonderful husband!"
MuslimD8.com launched in November 2008 as a result of the success of it's events business. MuslimD8online.com provides a larger platform for Single Muslims to meet one another from the comfort of their armchairs, perfect for those with limited time.
Only time will tell if MuslimD8Onlne.com and maintain it's growth over the coming years. Judging by what it has already managed to achieve in it short life so far it looks like MuslimD8Onlne is here to stay.
Useful links:
Muslim Dating Online - Here you can access the online dating website.
Muslim Dating Events - This section provides a list of all Muslim dating events currently being run.
Asian Dating Events - See events for all the different ethnic groups.