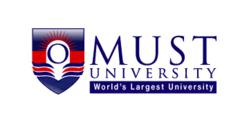 Because of the excellence, diversity and affordability that MUST University offers, more students worldwide are choosing to study with us
Ohio (PRWEB) December 22, 2011
MUST University, recognized for its academic excellence, is rated as the 5th fastest growing online university. The data released by the global education portal, World Wide Academics, gave the ranking based on factors such as affordability, quality of education, and academic experience.
The recent ranking inspires, supports, and celebrates the idea of making higher education affordable to students around the globe, while promoting innovation and independent thinking in students. The data revealed by the report indicates that in 2011 nearly 17,000 students chose MUST University over other institutions for reasons such as comparatively affordable educational expenses, employed faculty, and assistance in managing work-life balance. This, in turn increased the University's rating by 35 percent during the academic year 2011 only.
Brian Reeves, Communications Director of the University, says: "This report reflects MUST University's genuine efforts to minimize the financial constraints on students, especially working adults. An organized committee is exclusively dedicated to monitoring our financial assistance program that should be available to students every year. An increased collaboration between international universities and governments has played an important catalyst in making this happen."
Reeves added, "Because of the excellence, diversity and affordability that MUST University offers, more students worldwide are choosing to study with us. He also said that Must is proud to have surpassed top universities when it comes to affordability. "Scholarships covering 90 percent of the fee are generously awarded to competent students, which certainly makes MUST University the top choice in online education."
MUST University remains deeply committed to excel as the world's best online education provider. The University aims to facilitate working adults and job seekers in their academic and professional endeavors by continuing to disseminate quality education at affordable price.
About MUST University
MUST University is the largest online university, offering more than 1100 self-paced and self-study degree, diploma and certificate programs from 16 specialized schools and 71 different majors. Experienced faculty, global locations, academic affiliates, corporate partners and career center all come under MUST's roof to offer peerless academic experience. MUST University surpasses both traditional and the online institutions in terms of ease & flexibility, affordability, quickness, and quality of education, with innovative and easy-to-use features like mobile classroom, 24/7 consultants, credit transfer facility, scholarship programs, etc.
# # #