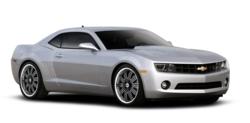 Huntington wheels have also been designed to clear the larger brakes of the Camaro SS, Mustang GT500, Challenger SRT-8 and the Charger SRT-8
Huntington Beach, CA (PRWEB) July 24, 2011
Buyers searching for custom Camaro wheels, Mustang wheels, Dodge Charger Wheels, Magnum and Challenger wheels online can now view Huntington Engineered Alloys on their vehicles using the wheel configurator. The configurator has been specially built to serve this purpose. "The configurator gives an accurate visual representation of Huntington wheels on Camaro vehicles and all the other modern muscle cars," says Terence Scheckter, President of Huntington Engineered Alloys, "The configurator has an easy to use interface for viewing our aftermarket wheels on your Camaro, Challenger, Charger or Mustang online". The configurator has been designed for customers shopping for Camaro Wheels, including Camaro SS Wheels and Camaro 2010 wheels, Mustang Wheels, Dodge Charger Rims, Mustang Rims, Challenger wheels and Dodge Magnum wheels.
How does the wheels configurator work? The user needs to select the vehicle type, the Huntington wheel style and wheel finish. You also have the option of changing the color of the vehicle to match that of your own vehicle. The result is an outstanding visual representation of Huntington Wheels on your muscle car. The Huntington wheel configurator has had a great response from customers. There are many try-to-be-great wheel configurators out there, but the Huntington wheels configurator gets it right.
Why Huntington Wheels? Huntington Engineered Alloys are designed exclusively for modern muscle cars. Each muscle car varies in the widths that they can handle and each of them has a different offset specification. Rather than building one standard fitment, Huntington Engineered Alloys developed a specific wheel fitment for each of the modern muscle cars, and offers Camaro Wheels, Mustang Wheels, Dodge Charger Wheels, and Challenger wheels.
Each of the Huntington Wheels has been designed to fit properly on each of the modern muscle cars. "Huntington wheels have been designed to clear the larger brakes of the Camaro SS, Mustang GT500, Challenger SRT-8 and the Charger SRT-8," says Terence Scheckter, President of Huntington Alloys, "these wheels have been designed to fit properly on each vehicle." The wheels embody more than 20 years of design experience. Importantly, all Huntington wheels are created to be perfectly hub centric and are made to the tightest tolerances. "Our wheels are hub centric and have been built to ensure a smooth, vibration free ride", says Scheckter.
Huntington offers a wide range of staggered wheel applications for the modern muscle cars, from 18 inch through 22 inch. Each wheel is engineered to accept the OE center cap as well as the factory TPMS (Tire Pressure Monitoring System). All wheels are built to Huntington's strict manufacturing standards while maintaining the lightest possible weight, creating high performance wheels that fit perfectly. "We are obsessed with engineering excellence at Huntington Alloys," says Terence Scheckter, "Our wheels have gained a solid reputation as the proven choice for custom wheels for the modern muscle car."
Huntington Engineered Alloys offers the following selection of high performance custom wheels that can be test fitted on modern muscle car vehicles using the configurator:

The Bolsa wheel - a stout five spoke wheel with classic styling and a modern edge is available in gloss black or silver with a machine cut face and lip.
The Springdale wheel – a one piece multi spoke wheel with a crisp machine cut line on the face of the spokes, this wheel has an aggressive style that has taken its cues from the classics.
Prices of Huntington wheels vary from $270 - $470 and are available now through dealers around the world. For a dealer near you, call 1800-479-9723 or visit Huntington Wheels on the web at http://www.huntingtonmusclecarwheels.com/. Huntington dealers are located throughout North America and worldwide, including Discount Tire Direct on the web at http://www.discounttiredirect.com/.
###