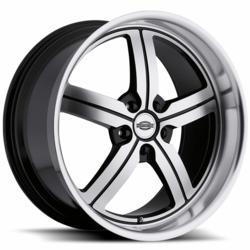 Our commitment to precision engineering and the lightest possible weight is a good match for the Mustang's astounding performance
Huntington Beach, CA (PRWEB) February 21, 2012
Which Ford Mustang wins the battle of the customizers? The one with the Huntington Engineered Alloy Wheels, perhaps. http://www.huntingtonmusclecarwheels.com/ The new Ford Mustang, credited with reviving the muscle car segment, is famous for the wide array of customization options offered. Now, two new Mustang wheels from Huntington Engineered Alloy Wheels gives Mustang owners a chance to really set their ride apart with distinctive chrome Mustang Wheels, silver Mustang wheels and black Mustang wheels in 18" and 20" diameters.
Huntington Engineered Alloys for modern muscle cars such as the Mustang add pizzazz with the introduction of the Bolsa and Springdale models, both available for those looking for 18 inch mustang wheels and 20" Mustang wheels. Both are available in staggered fitments. The Bolsa model's classic five-spoke design is a fitting complement to the iconic new Mustang's styling and is available finished as either a chrome wheel or gloss black wheel with a machine- cut face and lip. Springdale custom wheels feature an aggressive ten-spoke design that complements the Mustang's legendary looks. Springdale wheels are available in silver or gloss black, both with a machine-cut face and lip.
Both Bolsa and Springdale Mustang rims are available in sizes to support a staggered footprint, meaning rear wheels slightly wider than front wheels. This is compatible with the Mustang factory specifications and gives the 2005-2012 Mustang it characteristic "chompin' at the bit" attitude. Eighteen-inch Mustang wheels come as sets of 18x9 front with 32mm offset and 18x10 rear with 45 mm offset. Twenty-inch Mustang wheels are paired as 20x9 front with 32 mm offset and 20x10 rear with 45 mm offset.
All specifications for these mustang rims are available on the website. Note the "Configurator" button in the top navigation bar, which enables you to visually "try on" all Huntington wheels on your year and model Mustang.
"The Ford Mustang both created and reanimated the muscle car category, so Huntington Alloys is proud to add these two new wheels to the mix, polishing the legend and adding to the allure that is uniquely Mustang's," commented Terence Scheckter, president of Huntington Engineered Alloy Wheels. "Our commitment to precision engineering and the lightest possible weight is a good match for the Mustang's astounding performance," Scheckter added. All Huntington wheels are hub-centric for a smooth, vibration-free ride. The wheels accept OE TPMS sensors and OE Center caps.
Huntington Engineered Alloys is a new line of aftermarket wheels customized specifically for the unique offsets and varied widths required by the Ford Mustang, Chevy Camaro, Dodge Charger and Dodge Challenger, and are designed to clear the larger brakes of modern muscle cars. A detailed application guide for all Huntington Engineered Alloy Wheels and for each of these muscle cars is also available on the Huntington website. You can find a Huntington Wheel dealer in the United States or Canada at that website or by dialing 1-888-766-7775. Huntington Engineered Alloy Wheels are part of the TSW family of automotive wheel companies. TSW wheels are born of a rich racing heritage. Founded by a former Formula One racing driver, TSW has been involved in motor racing around the globe for over 30 years.
###