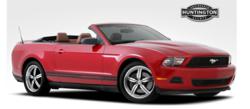 For the fast Ford crowd, we give them a wheel that precisely meets the demands and performance requirements of these highly powered vehicles, while enhancing the overall design aesthetic
Huntington Beach, CA (PRWEB) July 17, 2012
Ford's fast Mustangs have always been fan favorites among the fast and furious crowd. Now Ford has taken things up a notch with the introduction of the 2013 Mustang GT 500, featuring 650-hp and 600 ft. lbs of torque. Transferring such raw power to the asphalt takes special high performance, high tensile strength mustang wheels, precisely the purview of Huntington Engineered Alloys, long a leader in aftermarket wheels for modern muscle cars.
Huntington Engineered Alloys came into existence in response to the renaissance of the muscle car market, spurred by the rebirth of the Ford Mustang in 2005, a retro homage to the original pony car with a decidedly fresh twist and a penchant for bigger faster engines and larger, fatter wheels and tires. Huntington wheels saw the opportunity to set the pace in this market with a family of wheels engineered specifically for individual models, providing precise sizing and fitments—and stunning good looks. While the Huntington includes high performance wheels for other muscle cars, such as Chevy Camaro wheels, Camaro rims, Dodge Challenger wheels, Dodge Charger wheels and Dodge Magnum wheels.
"Muscle car aficionados have always had a penchant for adding that individualizing touch to their rides with custom, aftermarket wheels," observed Terence Scheckter, president of Huntington Engineered Alloys, "For the fast Ford crowd, we give them a choice that precisely meets the demands and performance requirements of these highly powered vehicles, while enhancing the overall design aesthetic," Scheckter added.
Mustang rims from Huntington Engineered Alloys includes the Bolsa. The Bolsa is available as a five-spoke, one-piece wheel in both Chrome and Glass Black with a machine cut face and lip. The Bolsa is available in fitments to meet the needs of prior-year Mustangs from the GT, GT500, Shelby, Cobra designations, as well as 2013 models, including V6 options, GT models, the Boss 302 and the massively-powered Shelby GT500.
Mustang wheels by Huntington are available is 18 inch, 20 inch and 22 inch diameters, in widths from 9 inch the eleven inch. This facilitates the selection of staggered footprints, in which the rear, drive wheels are slightly larger than the front wheels. A staggered footprint not only provides improved off-the-line traction and higher g-force cornering, but also gives the iconic Mustang and more aggressive, ready-to-rock appearance. All Huntington Engineered Alloys are designed to be hub centric for a smooth, vibration-free ride. The wheels fully support OE TPMS sensors and OE logo center caps.
All wheel specifications are available at the website http://www.huntingtonmusclecarwheels.com/mustang-wheels-rims. Note the "Configurator" button in the top navigation bar, which enables you to preview all Huntington wheels on your year and model Mustang.
You can find a Huntington Wheel dealer in the United States or Canada at that website or by dialing 1-800-479-9723. Huntington Engineered Alloy Wheels are part of the TSW family of automotive wheel companies. TSW wheels are born of a rich racing heritage. Founded by a former Formula One racing driver, TSW has been involved in motor racing around the globe for over 30 years.