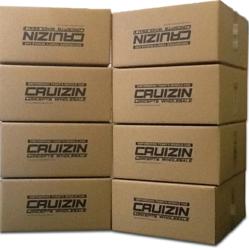 Better Service Starts With Easier Returns
Atlanta, GA (PRWEB) March 14, 2012
"This return policy is a first in the Mustang Aftermarket Industry," said David Childers, Cruizin Concepts CEO. "Our customers now have a peace of mind that if they change their mind, they can return most unused parts for a whole year. This plus our new re-vamped website that makes for easier browsing is sure to make us the main source for aftermarket parts."
Cruizin Concepts' website now has newly developed filters and navigators that allow you to reach any page with one click. This makes for faster browsing and ease of getting from one page to another without the long load time. Along with their re-designed website came the 365 Day Return Policy. This policy allows customers to return most unused parts for 365 days with no restocking charges, processing fees or any of the sort. "We accept returns on many pre-assembled wheel and tire packages, Hoods, Body Kits, Wings, Fenders and Performance Parts," said Greg Walker, manager over the Returns and Exchanges Department. "These are the typical items that our 'So Called Big Competitors' simply aren't willing to take a hit on."
Cruizin Concepts has also implemented new and improved departmentalization and specialized training that has visibly proven positive results in all areas of customer service and product knowledge. "You will not have to be transferred to three or more different people in order to speak to the person that you needed to begin with," states CEO of Cruizin Concepts, David Childers. "Our specialized training and knowledge will provide a more expedited and pleasant experience that will keep our customers coming back again and again."
Cruizin Concepts Wholesale has been "Empowering Today's Muscle Car" since 2001. With irrevocable innovation and fearlessness to step outside the box, they have become one of the most elite players in the Mustang Aftermarket Industry. They offer a diverse selection of products including Mustang Hoods, Mustang Body Kits, Mustang Wheels, Mustang Performance Parts and many other popular Mustang Parts.
In comparison with competitors, they manage to come out on top with exceptionally better pricing. However, if a better price is found elsewhere, they have a Price Match Guarantee program that matches or even beats that price.
To find out more about Cruizin Concepts, LLC go to http://www.cruizinconceptswholesale.com/ or call them toll free at 888-630-0655.