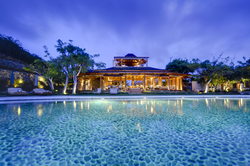 We are thrilled to add Mustique to our collection of truly amazing private vacation villas. Each villa will offer the full A&K Villa experience. Charlie Stephenson, MD
(PRWEB) April 1, 2011
Abercrombie & Kent Villas have expanded their portfolio of select private holiday homes with the addition of over 20 spectacular villas on the exclusive Caribbean island of Mustique.
Located in the Grenadines about 30 miles south of St. Vincent, Mustique is a mere speck on many maps. It consists of just 1,400 acres of lush, undulating land, surrounded by the most brilliant glassy waters. The is no better place to indulge in some more gentle activities, such as horse riding (along pristine beaches), bird spotting, sailing, diving or just tucking in to some ultra-fresh Lobster at Basil's Bar, located on a small jetty over the sea.
Unlike other islands, Mustique is entirely owned by a private committee. The Mustique company ensures that the island remains a haven of peace, tranquillity and natural beauty by imposing strict limits on building. You will not find any high rises or rambling towns on the island, just a series of individually designed and spectacularly appointed villas and pavillions, each chosen for their harmonious integration with the local environment.
Of the limited number of homes on the island, a good proportion of them were designed by Oliver Messel, a precocious talent who excelled at stage and costume design and was nominated for an academy award during his long and distinguished career. His talents were so in demand in fact, that when he decided to escape to the Caribbean for a break he found himself pursued for his skills as an architect! He went on to design and refurbish a number of buildings on neighbouring Barbados, and although he only designed the first of the Mustique villas, he set the bar very high for all that have followed:
Villa Opium Bedrooms: 7 Sleeps: 14
The first of our Mustique villa rentals, Villa Opium is a luxurious villa set in a peaceful hilltop oasis, with dazzling sea views and Bali-inspired architecture mixed with African Safari style décor. Sophisticated open air living areas and a roof tower, perfect for private cocktails and lounging, compliment three en-suite bedrooms and a private swimming pool.
Villa Blue Waters Bedrooms: 2 Sleeps: 4
This Mustique villa is a honeymooner's paradise on the North Coast, Villa Blue Waters is an extremely popular Oliver Messel designed villa featuring elegant furnishings, cove ceilings and expansive views of the Caribbean. Perched on the northern end of Endeavour Bay, this romantic residence offers its guests easy access to Mustique's north coast, the famous Cotton House and excellent snorkelling on the beach just below.
Villa Shogun Bedrooms: 9 Sleeps: 18
For complete privacy and something a little different, Villa Shogun is a 5 acre estate in the hilltops above Britannia Bay. A series of Japanese style villas around a central koi pond are flanked by a crescent shaped swimming pool. The main house consists of five en-suite bedrooms; an adjacent two-bedroom cottage, complete with its own private swimming pool, referred to as 'Little Shogun'; and the 'Travellers Tree Cottage' which has two further en-suite bedrooms complete the Villa Shogun collection. All residence have access to Villa Shogun's piece de résistance; your very own 9-tee golf course.
Villa Shogun can be rented either with just the main residence or the addition of one or both of the two separate cottages.
Villa Toucan Hill Bedrooms: 4 Sleeps: 8
For panoramic views of the Caribbean and the Atlantic, Villa Toucan Hill is one of Mustique's premier villas. Styled as a Moroccan Palace, this villa is a romantic Moorish fantasy throughout with mosaic tiled fountains, an octagonal dining pavilion and a unique domed mirador. There are four distinctive bedroom suites offering unsurpassed privacy and tranquillity.
Villa Taliesin Bedrooms: 6 Sleeps: 14
Villa Taliesin pays homage to one of the great buildings of all time; Falling Water by the legendary American architect Frank Lloyd Wright. It is also a great success in its own right marrying clean modern design with exceptional details for the ultimate in consummate luxury. The master bedroom comes with private terrace, large spa bath and an outdoor shower; a wonderful sensation if it happens to rain. There is also an 800 sq. foot professional gym should you be able to pull yourself away from the unforgettable vistas afforded by the infinity pool.
A&K Villas offers luxury vacation rental properties in Italy, France, Greece, Spain, Portugal, Britain and the Caribbean. Properties range from villas, apartments, manor houses, cottages and castles to luxury ski chalets.
Follow A&K Villas on Twitter: @AKVillas
###