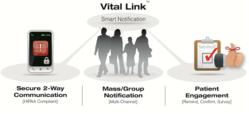 Vital Link delivers exceptional value to healthcare delivery organizations.
Rolling Meadows, IL (PRWEB) May 14, 2013
Mutare announced today the General Availability of Vital Link 2.0, the game changing smart notification system that supports 2-way secure communication, mass/group notification, and patient engagement messaging in a single closed loop platform. The system addresses the over $8 billion wasted each year by hospitals using antiquated pagers for communication as reported widely in a recent study from the Ponemon Institute.
Designed and architected by the former University of Chicago Medical Center CTO Mike Sorensen, now President of Mutare's Healthcare division, Vital Link sets a new standard for hospital communications. "Vital Link delivers exceptional value to healthcare delivery organizations," said Sorensen. "The system replaces antiquated paging technology and provides mass notification and patient engagement functionality. Our goal is to drive down the overall cost of the communications infrastructure through consolidation of duplicative and overlapping services. At the same time, the platform engages patients with appointment reminders, surveys and tailored communication in support of meaningful use goals."
"We're changing the game by offering a platform for communications both inside and outside the hospital. It pains me to see hospitals making a significant investment in 'Smartphone texting' products which are commodities in today's market," said Sorensen.
With the Vital Link secure client, pagers are out and clinical collaboration is in. Vital Link delivers clinicians the single device solution they demand leveraging their Smartphones and tablets to improve patient care and streamline workflow. Hospitals implementing the solution see immediate financial benefits through pager saving offsets and technology consolidation. Vital Link helps improve patient care by reducing medical errors caused by communication inefficiency and errors inherent in one-way alphanumeric paging.
Vital Link's mass / group notification capabilities leverage phone, email, IM, SMS and social networks to streamline employee communications and improve patient safety for emergency notification, shift management, personnel recall, reminders and urgent employee communications.
"Every hospital has its own unique set of requirements, so we built a robust API into the system that enables us to tailor the solution for each customer," added Sorensen. "We have been able to quickly deliver everything from customized reporting packages to family notifications for surgical waiting room applications. We believe the platform must adapt to the needs of the hospital instead of the other way around."
For additional information, including design and discovery, quotes, demonstrations and meeting support, contact Mike Sorensen at 847-496-9055 or by email at msorensen(at)mutare(dot)com. Take a closer look by visiting us on the web at http://www.mutarehealthcare.com..
About Mutare
Mutare's unified messaging, smart notification and speech technology products help increase your sales, reduce your costs and assist with regulatory compliance. Mutare is what unified communications should be – fast, easy and guaranteed. For more information visit us at http://www.mutare.com.