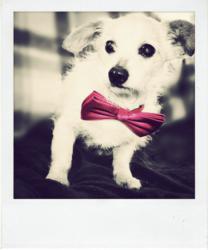 We love the cause of Muttville, and we wanted to help draw awareness to this very unique shelter.
San Francisco, CA (PRWEB) February 28, 2013
In an effort to draw awareness for the need of senior dog adoptions, San Francisco based retailer, Bows-N-Ties.com, met with Muttville's residents for a styled photo shoot. The site's founder Hendrik Pohl, and creative director Ashley Child met with a dozen of Muttville's residents and helped them get dressed up with neckties, bow ties, and other men's fashion accessories.
"It was amazing to see how much these little gentleman liked to wear fine neckwear", says Bows-N-Ties founder Hendrik Pohl. "Be it a simple necktie, tied with a four-in-hand knot, or a stylish paisley bow tie, it appeared that every single dog was eager to dress to the nines. Without doubt, these are all very loving, and distinguished gentlemen with lots of charm. You would never think that some of them are already 10 years of age", says Pohl.
Each day this week, Bows-N-Ties will feature one of Muttville's dogs dressed up with a tie on their facebook page, write a feature on their blog, and share it through Pinterest, and other social media channels. "We had a ton of fun taking these photos", says Bows-N-Ties's creative director Ashley Child, and we hope that our readers enjoy them as much as we do. While the pictures are certainly fun, they are not just there for amusement", says Child. "We love the cause of Muttville, and we wanted to help draw awareness to this very unique shelter." The actual ties worn by these senior dogs will also be available for purchase at Bows-N-Ties.com who will donate all proceeds from the sale to Muttville.
Muttville was founded in 2007 by longtime animal advocate and rescue worker Sherry Franklin, with the mission "that it is never too late for a new beginning". As a senior dog rescue, Muttville takes in dogs that are seven years and older from people who have gone into assisted living, people who have died, and from shelters all over the world. "Muttville is often the call of last resort for many of these senior dogs who would otherwise be put down just because their age", explains Patty Stanton, one of Muttville's dedicated volunteers.
Since Sherry Franklin founded this non-profit, over 1,650 deserving senior dogs have been rescued. "Not only is this a great cause, but the adoption rates are proof of a successful mission", says Stanton. "We are thankful for all those who support us and for those who believe in our cause." Muttville was named San Francisco's favorite charity by 7x7 magazine in 2011, and although this shelter has received lots of recognition, it is heavily depended on the goodwill of volunteers and donations.