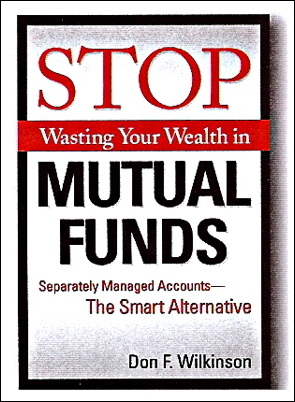 a great way to decrease one's tax liability for 2007 and future years is to get out of mutual funds and into a separately managed account.
Newport Beach, Calif. (PRWEB) April 25, 2007
It's happening again--every year since 2000, the IRS has hit taxable mutual fund investors with high capital gains taxes--the highest this year in stock market history.
Don Wilkinson, wealth manager out of Newport Beach, CA and author of a new book entitled ''Stop Wasting Your Wealth in Mutual Funds: Separately Managed Accounts--The Smart Alternative'' urges mutual fund investors to stop the bleeding and put their wealth in a better place.
Wilkinson's book is receiving renewed emphasis with investors in taxable mutual funds who paid 56 percent more in taxes on their fund holdings in 2006 than they did in 2005, says a new report released by Lipper, Inc, the mutual fund research firm in Denver, CO.
Mutual funds distributed a record $418.5 billion last year, up 57 percent from $266.5 billion in 2005, said Tom Roseen, Lipper senior research analyst.
Taxes paid by investors in taxable mutual funds make up about 50 percent of the $10 trillion mutual fund market.
Investors with taxable mutual fund assets who have been hammered with high capital gains taxes for years now and less than stellar returns should investigate setting up a separately managed account (SMA) in 2007, says Wilkinson, whose book on the subject has been endorsed by such industry icons as Ken Fisher, Forbes Magazine columnist and best selling financial author. Reducing taxes may be the strongest reason such investors have for making a separate account a part of their investing strategy for the new tax year, Wilkinson believes.
Investors need to find out about SMAs and that is the major reason Wilkinson wrote his book to identify the problems associated with mutual funds and offer a better wealth building solution: separately managed accounts.
While an investor can't avoid paying Uncle Sam in 2006, wealth manager Wilkinson says--" a great way to decrease one's tax liability for 2007 and future years is to get out of mutual funds and into a separately managed account."
Wilkinson says switching to a SMA can add up to a lot of money reflected in the investor's Return on Investment (ROI) and can be as much as 2 to 2.5 percent of the total annual return.
With taxable-prone mutual funds recording short-term capital gains, fund investors in the 39.6 percent federal tax bracket have to yield a performance gross of 16.56 percent to net 10 percent.
However, in a separate account would have to gross only 12.5 percent to net the same 10 percent, according to Money Management Institute, the national association in Washington, DC representing separately managed accounts.
In a separate account, investors can avoid getting hit with severe capital gains taxes each year by assigning responsibility for minimizing their tax burden to an assigned money manager(s). This money manager(s) can perform "tax-loss harvesting."
This is the practice of selling holdings at a loss to offset gains elsewhere in a portfolio. Harvesting is often done while reinvesting in a security with characteristics similar to the investment that has lost value and consequently is being sold. This practice lowers an investor's tax liability without changing the risk profile, sector or strategy of the managed account.
Tax-loss harvesting is not possible with most mutual funds, as they are owned by a pool of investors, not individuals as with a separate account.
The SMA strategy plus lower equity turnover and positive long term capital gains adds up to what the taxable account investor wants and needs, Wilkinson noted.
Lipper released the report entitled ''Taxes in the Mutual Fund Industry--2007: Assessing the Impact of Taxes on Shareholders' Returns'' on tax day: Apr 17.
For more information on separately managed accounts, contact Don Wilkinson or visit http://www.wastingwealth.com.
Don F. Wilkinson is a 30-year veteran of the financial services industry. He presently is the owner of a wealth management firm in Orange County, CA. His firm specializes in asset protection and estate planning for individuals and business owners. His client roster is the high-end, affluent investor.
Contact:
Don Wilkinson
Wasting Wealth, LLC.
180 Newport Center # 255 Newport Beach, CA 92660
Phone: (949) 719-9900 Fax: (949) 719-9900
http://www.wastingwealth.com
###