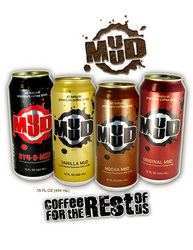 coffee for the rest of us
Las Vegas (PRWEB) May 19, 2008
Upstart coffee brand MUUD has found a new partner in Big Geyser, Inc., one of New York State's biggest non-alcoholic beverage distributors. The companies recently signed a major distribution agreement that includes the distribution launch of MUUD's re-designed signature can in the 5 boroughs of New York City, Long Island and Westchester.
MUUD Coffee, tagged "coffee for the rest of us," is a unique, all-natural ready-to-drink iced coffee brand produced by Las Vegas-based (with offices in Detroit and California as well) Underground Beverage Brands. Established in 2007, the young brand boasts four explosive, critically acclaimed iced coffee flavors - Original MUUD, Mocha MUUD, Vanilla MUUD, and DYNO-MUUD.
Already available throughout the northeast, southeast, and Midwest United States, MUUD Coffee expects to expand to the rest of the country by the end of 2008. The company's distribution agreement with Big Geyser will take MUUD Coffee to the east coast.
Big Geyser represents many of the finest brands of juices, teas, waters and nutritional soft drinks available in New York City's 5 boroughs, Long Island and Westchester. The company services all classes of trade including within their geographic area. The MUUD Coffee brand creators, Sean Pierce and Matt Marini feel "incredibly excited and honored to have an opportunity to bring MUUD Coffee to New York with such an amazing partner like Big Geyser....Look Out!"
MUUD joins a number of top name beverage brands to be distributed by Big Geyser, Inc., including , Glaceau Vitamin Water, Honest Tea, Muscle Milk, Iceland Spring Water, Mistic, Apple & Eve, Crystal Geyser Water, Tazo Tea, Sunny D, and many other brands.
For more information on MUUD Coffee, please visit http://www.muudcoffee.com. To learn more about Big Geyser, Inc., http://www.biggeyser.com
Media contact:
Matt Marini
800-265-8053
pr @ muudcoffee.com
###