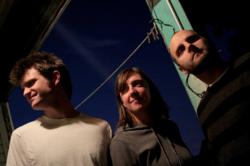 "These songs are all stellar; plus Chris and Lisa's harmonies are simply magical. I was going to call out the songs that I loved, but in all honesty I loved every track." - Debbie Catalano, The Noise
Boston, MA (PRWEB) January 22, 2013
Despite their sleepy Spanish name, initially just a derelict inscription on the wall of the band's rehearsal space, the music of Boston band, Muy Cansado, is energetic and awake. 2013 brings Muy Cansado's third release, a nine song LP titled, "Let It Go." Muy Cansado's self-released debut album, Stars & Garters (2008), inspired comparisons to '90s acts like the Pixies, Lemonheads, and Letters to Cleo. With their 2010 EP, Love & Fear, founders Chris Mulvey (vocals and guitars) and Lisa Libera (vocals and bass) teamed with Jon Ulman (drums) to further develop t heir sound. "Let It Go," a product of the band's evolution, sees the band exploring broader and richer dimensions only hinted at in previous releases.
"Let It Go"'s songs are melodically rich and rhythmically limber. The lyrical themes are anxiety and release (letting go), but the dance and pop sensibilities prioritize body movement over lyrical scrutiny. The call and response between Mulvey and Libera in the opening tracks "Falling Down" and "Predisposed" highlights their idiosyncratic connection. Their vocal interplay is an integral element throughout the album. The Boston Herald describes lead single, "Not For Nothing," as "a little slice of rock 'n' roll heaven." The album's title track, "Let It Go," takes the band out of its normal element into a more atmospheric, orchestral realm.
Joining Muy Cansado in the studio for the recording of "Let It Go" were Corey Blanchette on trombone, Matt Girard on trumpet and euphonium (also engineering on the track "Acquaintances"), and Veronica Dale on keys. Let It Go was recorded and produced at Q Division Studios, engineered by Joe Tooley (Liz Phair, Death Cab for Cutie) and Patrick Dicenso (The Click Five, Dropkick Murphys) and produced by Jon Lupfer (The Dead Milkmen, Figgs).
You can learn more about Muy Cansado at http://www.muycansado.com
If you have any questions, comments or would like to set up an interview please contact Melissa Zeigler: melissa(at)powderfingerpromo(dot)com