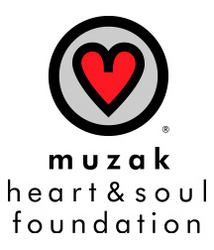 Charlotte, NC (Vocus) January 14, 2009
Muzak LLC, a leading provider of business music, is proud to name Shauna Collins (Mosley) as Head of Sponsorship and Events for the Muzak Heart & Soul Foundation. In her new role, Collins will be responsible for producing annual Heart & Soul events and initiatives including Noise!, Battle of the Bands and Music Matters as well as securing corporate sponsorships which support the foundation's mission and charitable giving.
A resident of Nashville, TN, Collins has worked with top-level music industry clients, talent and corporate and media sponsors including: American Airlines, Carhartt Apparel, BMI, Grand Ole Opry, CMT.com, CMT (Country Music Television), Kenny Loggins, Brooks & Dunn, Key West Songwriters Festival and Big River Broadcasting, among others. In addition, Collins has lent her talents to several charities and initiatives, including: The EAR Foundation, Willow Springs Boys Ranch in Chandler, OK, Compassion International, T.J. Martell Foundation, Cystic Fibrosis Foundation and produced The Minnie Pearl Cancer Foundation's Positively Pink™ breast cancer awareness campaign with GRAMMY winning Christian/Pop artist Amy Grant.
"Heart & Soul is pleased to welcome Shauna Collins to the Foundation. With Shauna's extensive experience in events and sponsorships, and her solid relationships within the music industry, I believe she will be a valuable asset to Heart & Soul. We are confident Shauna will contribute in a big way to our mission of supporting and redefining music education." stated Bob Cauley, president of the Muzak Heart & Soul Foundation.
About the Muzak Heart & Soul Foundation
The Muzak Heart & Soul Foundation was established in 1998 by Muzak, a leading provider of business music and other sensory branding services. Muzak believes in the power of music education to change lives. The Foundation's mission is to support and redefine music education. Heart & Soul helps students turn their passion for music into real world opportunities--by providing teens with new and exciting programs focused on all aspects of the music business. To learn more about the Muzak Heart & Soul Foundation, please visit http://www.heart.muzak.com.
About Muzak
As a leading provider of business music, Muzak creates experiences that reach more than 100 million people daily. Some of the biggest brands in business, from Ann Taylor to AT&T to McDonald's, work with Muzak to enhance their brand image in hundreds of thousands of client locations. Muzak creates a wide variety of core and custom music experiences for clients around the world. Muzak creates custom on-hold and in-store voice messages, and designs and installs professional sound systems, commercial television, drive-thru systems, digital signage, soundmasking systems and more through its national network of sales and service locations. For more information, visit http://www.muzak.com.
Contact: Bob Cauley
800-331-3340 x10187
###