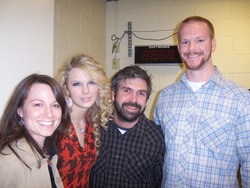 Fort Mill, SC (Vocus) September 16, 2009
Muzak, the world's leading provider of music, messaging and branded sensory media, has fielded dozens of requests for Taylor Swift programming over the last 24 hours.
The 19-year-old country music star, who was famously interrupted by rap artist Kanye West during her acceptance speech at the MTV Video music awards, already had a solid fan base—as the top selling artist of 2008 according to Nielsen SoundScan. Fans, celebrity attendees and TV viewing audiences were collectively shocked when West stormed the stage and stole the microphone from the singer.
Many of today's young women look up to Swift, who writes and plays her own music. Her talent, wholesome appearance and resistance to the erratic behavior of other female singers are just some of the qualities that make Swift a role model, according to her fans.
Muzak is happy to play more Swift music at the urging of her fans. To hear additional Swift music, select Muzak core programs Hitline, FM1 or Country Music One, where Swift songs will appear at double their previous rate through this Friday.
About Muzak
Muzak creates relevant sensory experiences that touch more than 100 million people daily. Businesses of all sizes trust Muzak to enhance their brand image using strategic integration of branded sensory media, including: music, digital signage, targeted custom in-store and on-hold messaging, custom scent and exciting live events that reach customers in store and beyond. Through its national support network, Muzak designs, installs and services professional sound systems, drive-thru systems, commercial television and more. For more information, visit us at http://www.muzak.com.
###