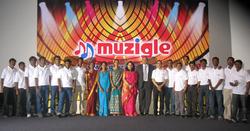 "I am very happy to see Muzigle come out and encourage new talent. There is so much new talent, they need more opportunities , whether bands or singers and Muzigle is the right place." - Pravin Mani, Music Director, Session Arranger for AR Rahman
Cupertino, CA (PRWEB) December 16, 2009
Largest Indian Music Network MUZIGLE [(http://www.muzigle.com)] launched at a grand ceremony in Hyderabad, India. More than three hundred lyricists, composers, singers and persons of repute from film and music industry attended the launch event held at Prasads Preview Theater.The doyens of Indian music Palagummi Viswanadham (91)and Rao Bala Saraswathi Devi(81)lighted the lamp as a mark of the launching of Muzigle. World renowned Kuchipudi dancer Padmabhushan Raja Reddy opened the Muzigle website.
Muzigle has 200,000 songs of all genres in Hindi, Tamil, Telugu, Malayalam, Kannada, Marathi, Bengali and many other languages. All content on Muzigle is legally licensed from PPL, SIMCA and other respective record labels. Muzigle provides a very innovative Karaoke player and online record feature. Karaoke tracks of hundreds of well known Bollywood, Tollywood and other film songs are available. Muzigle has a FaceBook application with which users could share the albums and tracks they like with their friends on FaceBook.
Muzigle wishes to connect with the grass-roots music community and focus on the company's core mission: to empower independent Lyricists, Composers and Musicians and help music fans discover new music. The company will develop new revenue streams by marketing premium services for music fans and for musicians who seek more exposure. Muzigle aims to be the world's largest online Indian music community of emerging and established musicians who could collaborate and create music with no geographical boundaries.
At Muzigle, it is our mission to provide the best tools artists need to create, nurture, and strengthen relationships with Indian music lovers across the globe. With these relationships the artists could promote and profit from their works. It is our mission to help artists maximize this through several features of Muzigle. Muzigle gives the artists the power to digitally distribute their works across the globe.
Anand Kuchibhotla, Co-founder and CEO said "India is home to a large pool of talented musicians. Muzigle would serve as platform for musicians of all genres to showcase, promote and profit."
Shan Appajodu, Co-founder and President said "Muzigle has several unique technology features that would make music discovery services easy for all the fans of Indian music."
About Muzigle
Muzigle, Inc. is a California corporation headquartered in Cupertino, California, USA and content operations in Hyderabad, India. The founders of Muzigle are well accomplished technology and marketing
executives based in Silicon Valley. Their passion for Music and arts has led them to create Muzigle.
Anand Kuchibhotla, Co-Founder and CEO has held senior management positions with Fortune 500 Corporations like Scott, Kimberly-Clark and Yahoo! He worked with start-ups like Coming2America, VarStreet and DialPad.
Shan Appajodu, Co-Founder and President was most recently founder and CEO of RingCube Technologies, a pioneer in Desktop Virtualization systems funded by leading VC firms, NEA and MDV.
You can check us out at http://www.muzigle.com or call for more information 408-689-2425.
Contact: Anand Kuchibhotla, CEO
Telephone: 408-689-2425
info(at)muzigle(dot)com
Muzigle, Inc.
20990 Valley Green Dr. Suite#615
Cupertino, CA 95014USA
# # #